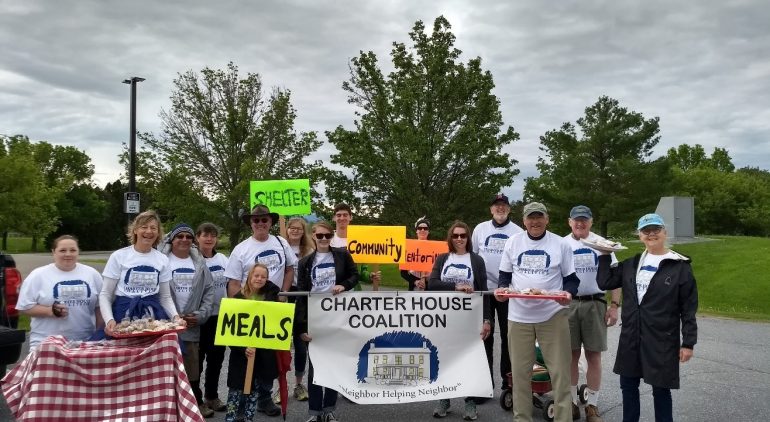 Middlebury Food Co-op
9 Washington St., Middlebury, VT 05753
Round Up YOUR Total at the Registers May 10th – 16th.  The Co-op will match your donation.  At the end of the week, we'll present a check to Middlebury's Charter House Coalition, "Where Neighbor Helping Neighbor Happens Every Day".  The Charter House is right in our backyard, but there is so much we didn't know about the good work that they do for our most at-risk Vermonters.  Read on to see what they have to say about their organization's work:
OUR MISSION –  Charter House Coalition (CHC) is a growing community of volunteers in Addison County that provides meals and housing for individuals and families in need.
HOW WE DO IT –  At Charter House Coalition you can find a roof over your head on a cold night, a warm meal any day of the week, a bus pass to get you where you need to go, boots on your feet, and much more. This happens through volunteer-based programs (1200 strong!) including;
Friday night community suppers
Saturday morning breakfasts
Sunday afternoon Grill
Weekday community lunches
A family shelter and a warming shelter for individuals 10/15-4/15 every year.
A "Farm to Table" community garden
WHAT WE NEED AND HOW CAN YOU HELP –
Our 220-Year-Old Building Has Urgent Needs
As a result of an architectural assessment, an energy efficiency study, and top-to-bottom professional evaluation of the condition of Charter House, we have discovered that many urgent repairs and critical renovations are required.  We can share the list if you're interested.  Here are two important ones. 
Kitchen expansion is critical and major renovation is required by State regulations.
Replacement of an obsolete heating system is essential to provide appropriate living conditions and reduce out of control fuel costs
To find out more, please visit their website at charterhousecoalition.org