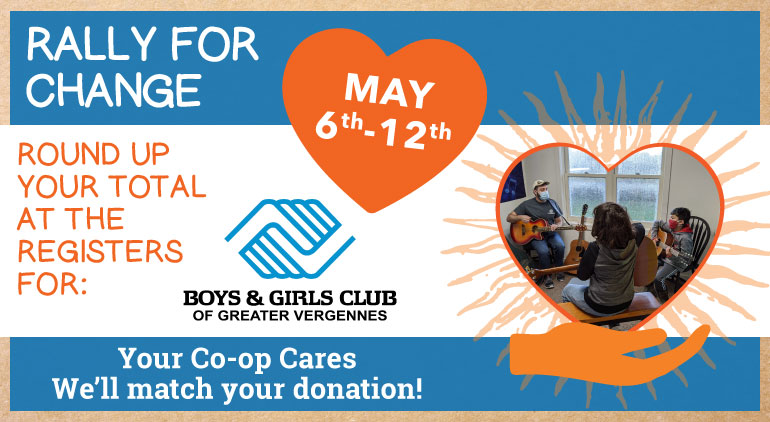 Middlebury Natural Foods Co-op
9 Washington St., Middlebury, VT 05753
Round up your totals at the registers May 6th – May 12th. The Co-op will match your donation for the Boys and Girls Club of Greater Vergennes.
Rally Every Time You Shop! When not featuring a specific non-profit, donations are given to Addison County Food Shelves
The Boys & Girls Club of Greater Vergennes aims to inspire and enable youth of all ages to reach their full potential as caring, productive, and responsible citizens. We currently offer after-school programming from 2:30 pm to 6:00 pm, Monday through Friday. Membership to the Club is free of charge to any 4th through 12th grader in the Addison Northwest School District.
Our programs include opportunities in:
academic growth
health and wellness, and
leadership and service.
We are incredibly grateful for the opportunity to participate in the Co-op's Rally For Change and will plan to use any funds raised to enhance our summer programs. This may include:
covering the cost of materials
purchase of equipment
hiring guest instructors
covering the cost of food
Thanks to you, we can continue to support great futures for our youth!
The Boys and Girls Club of Greater Vergennes is located at:
20 Armory Lane, Vergennes, Vermont 05491
To contact them please visit:
or call: (802) 870-7199