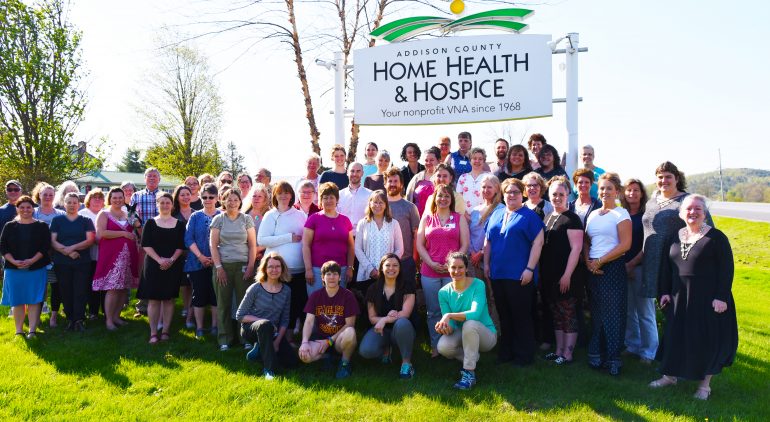 Middlebury Food Co-op
9 Washington St., Middlebury, VT 05753
Round-Up YOUR Total at the Registers August 9th – 15th.  The Co-op will match your donation.  At the end of the week, we'll present a check to Addison County Home Health & Hospice – celebrating their 50th Anniversary of providing care to the residents of Addison County.  There are so many people whose lives have been touched by this organization.  We asked them to share with us their philosophy and to describe some of the many services that they provide:
ACHHH was founded in 1968 by forward-thinking Addison County residents who wished to provide high quality, comprehensive community home health care to all residents of Addison County who needed it, regardless of their ability to pay.
ACHHH's mission statement is: "ln collaboration with patients, families and other community providers, Addison County Home Health and Hospice, a non-profit agency, enhances the health, dignity, and independence of Addison County residents through comprehensive, patient-centered home health and hospice care."
ACHHH has an average daily census of approximately 530 patients; our employees make 75,000 visits per year, driving over 710,000 miles through Addison County 365 days a year to care for our patients. Today, ACHHH provides:
– Skilled nursing
-Medical Social Work
-Rehabilitation Therapies including Occupational, Physical, Speech and Better Breathing
-High-tech nursing to help families keep high needs children at home
-Telehealth
-Hospice and Palliative care
– IV Therapy
-Wound care
ln addition, ACHHH offers the following to county residents:
– A Choices for Care Medicaid-funded program that provides case management and personal   support to county residents who need help to stay in their homes and to avoid costly nursing home admissions
– More than 50 free foot care clinics for any resident 60 years of age or older
–  Four Addison County SASH (Support and Services at Home) locations for the State of Vermont
Our goal is to keep our family, friends, and neighbors safe and comfortable and living in their own homes, for as long as possible. Everything we do supports this goal. Our staff is caring, compassionate and competent, and they have access to cutting-edge technology.
We are so appreciative of the support we receive from our community and we thank the Middlebury Natural Foods Co-op for this wonderful opportunity. We are looking forward to serving the residents of Addison County for the next 50 years!!
​ Referrals for home health care are received from physicians, hospitals, and nursing homes. If you or a family member feel that a referral for home health care would be beneficial, please call your primary physician, or call us at Home Health and ask for assistance with the referral process.
Skilled services are available to our patients 24 hours a day, 7 days a week.  Our office hours are 8:00 AM to 4:30 PM Monday through Friday, Evening hours, weekends, and holidays are covered by a team of nurses who are available for scheduled visits and to respond to patient emergencies. They may be reached through a live answering service by calling the agency at (802) 388-7259.