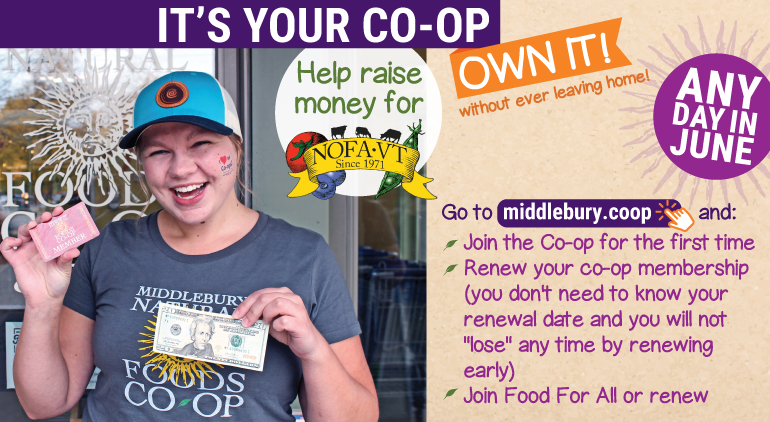 Middlebury Natural Foods Co-op
9 Washington St., Middlebury, VT 05753
It's YOUR Co-op…OWN IT…without ever leaving home!
Join or Renew in June and the Co-op will donate $5 to help Vermont farmers!
Did you know that you can do your Co-op Membership "housekeeping" online? That's right, you can:
become a Co-op member-owner
renew your membership
join our Food For All program (or renew)
request a new member card, update your address, and so much more!
All June, In order to promote "stay safe/stay home" the Co-op will donate $5 to NOFA-VT (Northeast Organic Farming Association of Vermont) for every co-op share that is purchased online.
Just go to our Membership Page to get started.
The Co-op's donation will be applied to the NOFA-VT COVID-19 Response Fund to support projects like:
Increasing their Farmer Emergency Fund to provide critical cash flow for farmers.
Providing additional subsidized CSAs through their Farm Share Program.
Hiring dairy milking relief workers in case a dairy farmer or farmworker falls sick.
Increasing their organizational capacity to support their COVID-19 response.
This fund will also help them develop longer-term solutions, like potent policy changes and awareness-raising, so we don't just return to business as usual after this crisis.
Thank you for being part of the solution!