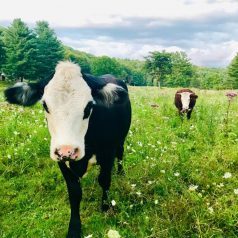 ACORN has launched a Virtual Farmer's Market and Online Guide to Connect Customers with Farmers Directly. Customers can pick up orders at one of two locations in the Champlain Valley.
COVID-19 is affecting the food supply chain in unprecedented ways. Supply and demand are out of balance on a global, regional and local scale. Vermont, however, is fortunate to have an abundance of local food producers ready to help feed our community. As a result of the temporary closure of area farmers' markets, restaurants and schools, ACORN has created an interactive online map that lists nearly 250 farmers and food producers in Vermont's Champlain Valley who sell food locally. The map will help match folks looking to buy local food with growers who have an abundance to sell.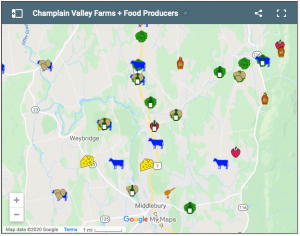 In addition to the map, ACORN is organizing a virtual farmers' market to encourage people to shop online using individual producer's websites. All payment is done online, and orders will be ready for curbside pick-up at one of two distribution sites beginning Wednesday, April 29:
Tandem, 26 Main St, Bristol on Wednesdays 4PM-6PM

Hannaford Career Center, 51 Charles Ave, Middlebury on Thursdays 10AM -12PM
ACORN is moving quickly to get this launched and locations are subject to change. Additional locations in Vergennes and Brandon may be added in the future if sufficient interest is shown by farmers and customers. ACORN will continue to keep its website up-to-date.
All orders will be packed by folks wearing gloves and a mask. Customers will be asked to wait in their cars and roll down their passenger rear window where volunteers, also wearing a mask and gloves, will place their orders. All social distancing measures will be in place. Any orders not picked up within the designated time slot will be donated to HOPE.
ACORN's new interactive online map lists all of the Champlain Valley farms that sell food locally and is organized by food category.
The map can be found at http://www.acornvt.org/onlinemap and the online market can be found at http://www.acornvt.org/onlinemarket . Farmers who don't have an e-commerce site and who would like to be part of ACORN's new virtual farmers' market platform should contact ACORN's Lindsey Berk at Lindsey@acornvt.org
ACORN (Addison County Relocalization Network) is a 501(c)(3) non-profit community organization based in Middlebury, VT whose mission is to promote the growth and health of local food and agriculture in Vermont's southern Champlain Valley. We are working with growers, schools, businesses and community and statewide partners to increase the consumption of locally-grown food. For more information, go to http://acornvt.org/.