Expansion Update August 2017
Dear Member-Owners,
We are getting there!!!  We have passed the apex of expansion construction and can glimpse the light of completion within two months.  So far, the project is on schedule and within budget!  Everything is really coming together and often feels like a minor miracle.  The coordination of this project while trying to keep the store open to serve the community is a daunting task, and for this, we thank our project superintendent, Dennis Breitigan, and his team from Naylor & Breen, as well as all of their fantastic sub-contractors. We know many of our members want to be in the know about "what's next".  Here's a little preview of what the coming months will bring:
On the EAST side (toward the bakery):  The expansion of the produce department walls should be complete by the end of August.  This should give significant space in Produce for customers and in the backroom for staff. Then in September, we plan to add one additional refrigerated case and an additional dry storage area.
On the WEST side (toward the Middlebury Inn):  Hopefully by Labor Day weekend, we will be ready to open the big west addition to customers and staff.  This area includes expanded departments in meat, cheese, and deli.  We're excited to expand our offerings in our new meat department (including, eventually, in-house cuts!) and to add even more diversity to our cheese and deli cases.
On the NORTH side (toward Seminary St.): by the end of August, we hope to have truck deliveries back on the west side away from customer parking.  We will be receiving deliveries in our newly expanded receiving area.
In September, we'll begin rearranging the old store, including relocation of the café seating; adding two new registers; adding a customer service desk; creating an airlock at the entrance/exit with an inner set of doors; expanding the dairy cooler doors; widening the aisles; and adding two additional aisles.  Please ask any staff if you need help getting oriented – we are here to help!
Finally, we've postponed the resurfacing of the old retail floor until after the Thanksgiving holiday.  We need two days closed to accomplish this work.  In order to minimize inconvenience to shoppers, we'll do this over a day that we're already closed – Thanksgiving, and on the day after this holiday.  We know it will be an inconvenience to have the Co-op closed for two days in a row, but we're very grateful that this hasn't had to happen at any other time during expansion.  We appreciate your understanding here.
A huge thank you goes out to all our shoppers who have continued to support us during the most challenging parts of construction … noise … store congestion … and customer cars sharing the parking area with delivery trucks and construction.  THANK YOU!
Wishing you all a wonderful August.
Glenn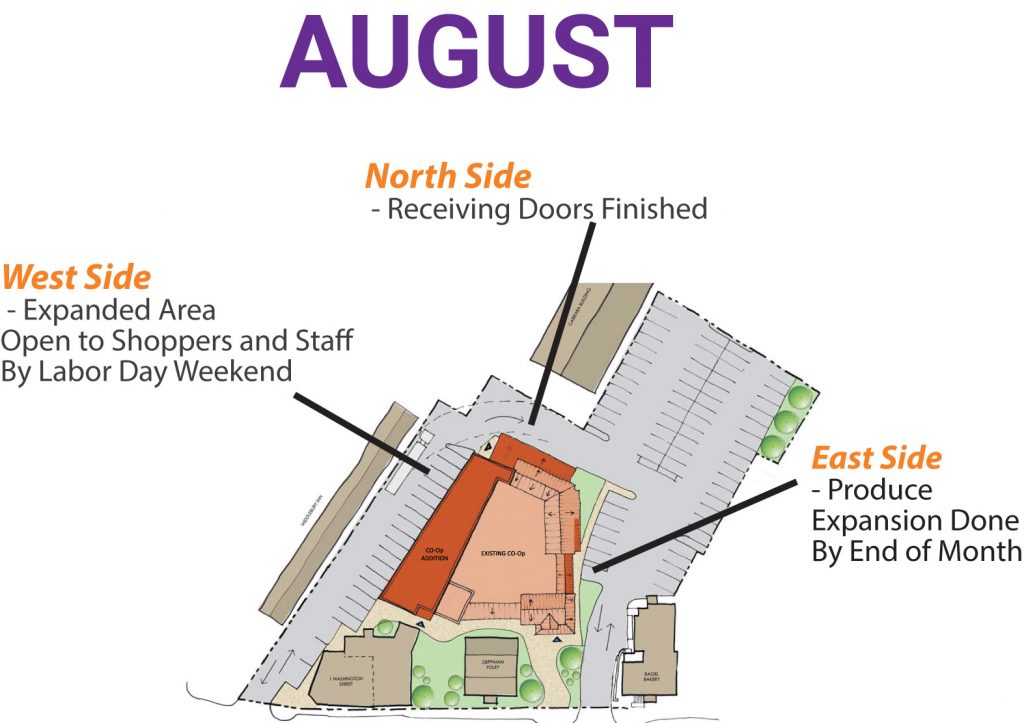 Here's a Look at the New Store Layout: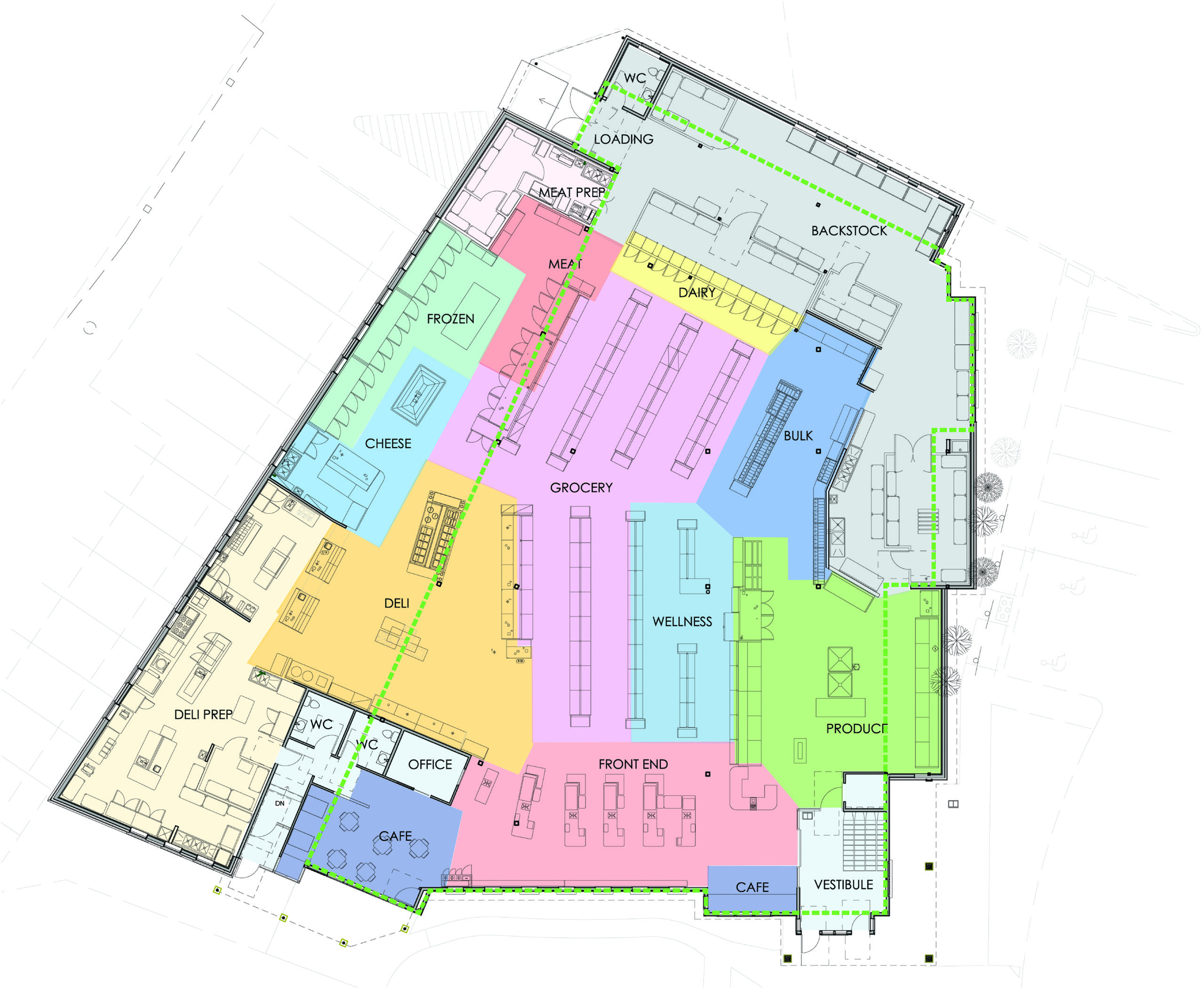 Note that the dotted green line represents the outline of the current store. The additional space will allow:
A better insulated, more energy-efficient building with 50% more retail space overall
20% more retail space in the Produce department and a more open layout for easier navigation
Improved store entrance with energy-saving air lock
100% increase in the bulk/grocery backstock area
Expanded selection in the Bulk department
100% increase in fresh meat retail space
100% increase in cheese retail space
Improved deli, with 75% more retail space, a hot bar, and more
Enlarged deli kitchen for more prepared foods and faster service
New Co-op Cafe with 100% more seating and a dedicated entrance
New customer service desk
Wider, longer, safer driveway in and out of the parking lot
The most important thing members/customers can do to support our expansion project is to keep shopping during the construction months.  Thank you!
Stay tuned for more details!!!