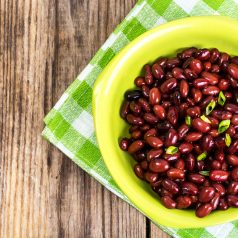 Westbrae Natural Foods is basking in the Member Deals Spotlight this week and all of their products are 20% off for member-owners from February 23rd – March 1st. Read on to learn more about their history of offering healthy foods for nearly 40 years!

Westbrae's original co-founder Kristen Brun launched the business with partner Bob Gerner based on a simple idea – she wanted to do something for the planet, and something good for the people on both sides of the counter. That was way back in 1970 and though the company has evolved significantly over the years, they remain true to this original philosophy.
Bob Gerner and Kristin Brun initially offered their customers homemade granola, organic vegetables from Bob's garden, organic fruits from local farmers and whole grain baked goods using Kristin's recipes. In the late 1980s, the business was sold to a group of food-savvy investors, relocated to southern California, and continued to grow. The Research and Development Department expanded the Westbrae Natural line and achieved leadership in the natural products industry
In 1997, Westbrae was acquired by The Hain Food Group (now known as Hain Celestial), which is headquartered in Melville, New York. Available in natural food stores as well as mainstream supermarkets, Westbrae Natural's array of vegetarian foods includes beans, soymilk, miso, mustard, and more.
Be sure to check out their website for great recipes!