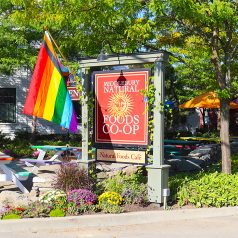 Our Co-op is celebrating Vermont Pride Week by hanging the Progress Pride Flag on our welcome sign.
Since 1983, LGBTQ+ Vermonters have been marching the streets of Burlington to expand LGBTQ+ visibility, highlight the continued fight for equal rights and treatment, and celebrate the love shared for each other and our community overall. In honor of this, we will be displaying the Progress Pride Flag.
Talking with Phoebe Zorn, Operations Manager of the Pride Center of Vermont, I learned that The Progress Pride Flag is generally recognized as the current best option to include all. This flag emphasizes the contributions of BIPOC and Trans folks, who were the foundation of the original Pride movement and many important aspects of LGBTQ+ history and culture since.
The Progress Pride Flag was designed in 2018 by graphic designer Daniel Quasar (xe/xem). Quasar added a five-colored chevron to the classic Rainbow Flag that features black, brown, light blue, pink and white stripes to bring the communities of marginalized people of color, trans people, and those living or who have been lost to HIV/AIDS to the forefront and place a greater emphasis on inclusion and progression. The arrow points to the right to show forward movement, while being along the left edge shows that progress still needs to be made.
We have purchased our flag through the Pride Center of Vermont. All proceeds benefit their work. You can learn more by visiting pridecentervt.org
If you have any questions, please ask Greg.
Much Appreciation,
Greg Prescott (he/him)
General Manager
Middlebury Natural Foods Co-op
802.388.7276 ext. 306
gregprescott@middlebury.coop