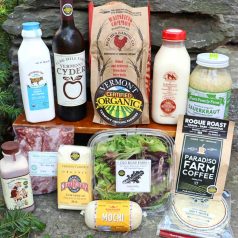 You've likely seen the logo on some of your favorite local products, but have you ever given much thought to the values behind Vermont's organic certification label? Who is VOF? And what exactly does that label entail? We're happy to peek behind that curtain and share what we've learned about the Vermont organic certification body known as VOF (Vermont Organic Farmers) and the standards that set their products apart.

Your choices make a difference! Nearly 800 Vermont farmers and processors that makeup Vermont Organic Farmers (VOF) know that local and organic always count. VOF believes that organic production enhances soil, plant, animal, and human health to protect the environment for current and future generations. Organic certification is needed to verify these production practices and to ensure that organic products are produced with integrity and transparency. VOF provides consumers with a process and a label they can trust. Seeing their label takes the guesswork out of your shopping experience, allowing you to feel confident that the products you're purchasing are healthier for you and your family, supportive of your community, better for the land, and grown without GMOs or harmful agrochemicals.
In the fight against climate change, efforts that strengthen natural resources, bolster the self-sufficiency of local communities, and improve resilience to the extreme and the unexpected are key. Long associated with environmental protection, the practices used on Vermont organic farms do just that. They lean on the right side of the scale, they contribute to the vitality and resilience of natural systems, anchor local economies, and can even mitigate the impacts of extreme weather events.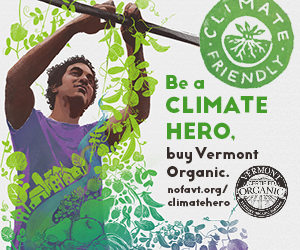 While organic practices may be known best for what they don't do: namely, pollute airways, waterways, and soils with toxic fertilizers and pesticides, there's just as much to be celebrated for what organic practices are actively doing to strengthen natural systems. In other words, while organic practices abstain from the bad, they also contribute to the good. It's a double whammy in the fight against climate change, and a model for the kind of systems society will need in order to combat it.
While organic practices contribute to the reduction of climate change in many, many ways, we'll focus on five of the heavy hitters here–you'll notice some aren't just focused on reducing climate change, but on building resilience to it as well:
Environmental stewardship has always been baked into our Mission and ENDs at the Co-op, but now, in this era of climate change and consequences, we feel doubled down on this commitment. Supporting organic farmers is a way of fortifying a team of our best allies against accelerating greenhouse gas emissions, extreme weather events, and the destruction of natural resources. While human activity spurred this vicious cycle through the exploitation and abuse of natural resources, human activity can, and must, be responsible for spurring the corresponding virtuous cycles that will restore equilibrium and preserve this place we call home. Organic farming is one such virtuous cycle, and we're proud to be fueling it here in Vermont.
How to Find VOF Certified Producers
VOF maintains a database of over 800 local organic producers to help you find certified organic farms/processors and their lists of products. You can search by product or by location. They also produce a Vermont Organic Farm and Food Guide annually, which can be accessed in print and digital versions. And when you're shopping at the Co-op, just look for the VOF seal or pick up any local, organic produce, which is all certified by VOF!