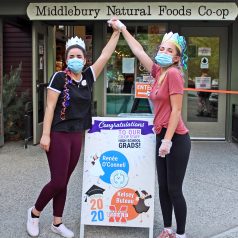 Commencement is just one of the watershed events upended by the global pandemic, prompting schools across the nation to cancel or postpone graduation ceremonies or create a virtual alternative. While students, teachers, and public health officials agree that this played an important role in limiting the virus' transmission, it leaves a lot of graduates feeling a distinct lack of closure. The rushed goodbyes and the mounting uncertainties about how it would all unfold put a damper on a period of time usually marked by celebration and revelry. Thankfully, these difficult circumstances also seem to have given many members of the class of 2020 a unique sense of camaraderie and many have found creative ways to honor this very special and unique time in their lives.
The Co-op is bursting with pride for two of our own who are celebrating graduations this year. Kelsey Buteau and Renee O'Connell are valued members of our Front End team and you may recognize their smiling faces from the check-out lines. Kelsey is graduating from Middlebury Union High School and Renee is graduating from Otter Valley Union High School. They each took a moment to answer a few questions about the challenges of graduating in the COVID era and the ways they plan to mark this momentous occasion.:
Congratulations on your graduation! How will you celebrate?
Kelsey: I don't have a set plan for how to celebrate but maybe a cake and a day with my family and friends.
Renee: I plan to celebrate with friends and family
Did your high school hold a ceremony?
Kelsey: MUHS is planning on having a drive-through graduation ceremony. We will pull up in our cars, walk across the stage, and get our pictures taken. They also put signs up around the Middlebury green with our names on them.
Renee: Otter Valley is also having a drive-through ceremony on the 13th of June.
What was the highlight of your senior year?
Kelsey: I think the highlight of my senior year was getting closer to my friends. I went away for most of my junior year and when I returned I found that I had lost an old group of friends. I began to get closer to a new group of girls who have become my best friends. I am so happy senior year brought us all closer together
Renee: There were many incredible memories and highlights of my senior year. If I had to pinpoint one it would have to have been my fall choir concert.
What have been some of the biggest challenges of graduating during a pandemic and having your senior year cut short?
Kelsey: For me, the biggest challenge is not having some sort of closure. I was looking forward to all of the big events at the end of my senior year, and it feels strange that they never happened.
Renee: There have been many challenges to graduating in a pandemic. I have missed out on some of the best things about being a senior. My softball season, the last three months with friends and teachers, spring concert, prom, etc. One of the biggest things for me was that I didn't get the closure of saying goodbye. Say goodbye to my teachers, my friends, and the school that has been my home for the past four years.
What's next? Do you have plans for the fall?
Kelsey: I am really excited to be attending the University of Denver in the fall! I have never lived in Colorado and I couldn't be more ready!
Renee: This coming fall of 2020 I will be attending the University Of Southern Maine.
Needless to say, we're so very proud of you both and we're confident that you both have very bright futures ahead of you! Thank you for being an integral part of our Co-op family and congratulations on your graduation!