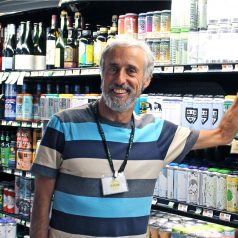 Every business has a team of people working behind the scenes and the Coop is no exception. As Board Treasurer I would like to shine a light on the Finance Department and team members: Steve Koch, Grace Sauerwald, and Kerry Dashnaw and thank them for all their good work behind the scenes…especially during the pandemic.
A transition is underway this month in the Finance Department and I would like to take this opportunity to publicly thank Steve Koch, Finance Manager of the Coop. For the past 17 years, Steve has successfully led and managed the Finance Department and will be retiring in June 2021. Much change has taken place during this time. When Steve began working in 2004, the Coop had 1,580 member-owners, 32 staff members, gross sales of $4.2 million, and 3,000 square feet of retail space. Moving to the present moment, the Coop has 5,456 member-owners, 91 staff members, gross sales of $19.6 million, and 9,000 square feet of retail space. Did you notice that I express change in numbers? This was intentional because these types of changes have a direct and seismic impact on the Finance Department. More people, products, and data to track. In addition to the daily work of the office, Steve managed two rounds of member loans ($400,00 in 2004 and $1 million in 2017) and tracked construction costs for the new store and store expansions (large and small) over the years. No easy feat!
I have had the unique opportunity to work closely and collaboratively with Steve during the past six years in my role as the Board Treasurer. Steve's deep historic and financial knowledge of the Coop has been a gift and supported the work that I do on behalf of the Coop Board. As an accountant myself, I am grateful for his attention to detail, his ability to converse articulately about complex financial matters, and most importantly his integrity that he brings to all his work. Steve, please know that you will be missed.
On behalf of the Board thank you for all the work you have done to leave the Coop in a strong financial position, and we wish you all the best as you step into the next chapter of your beautiful life. Have fun sailing, paddling, and working in your woodshop!
Lynn Dunton is a Middlebury Natural Foods Co-op board member.