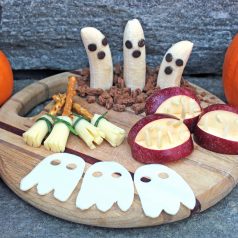 Looking for some healthy alternatives to candy this Halloween? Check these out! They're simple to make and so much fun to eat that the kiddos might not even notice the missing candy!
Boonanas in the Graveyard:
Peel and slice bananas in half. Push chocolate chips or carob chips into place for eyes and mouths. Crumble chocolate cookies or Grahams onto a plate, then place the boonanas. We used Jovial Einkorn Cocoa Cookies and thought they were particularly delicious.
Monster Mouths:
Quarter an apple and remove the core. Flip each quarter upside down and slice a V-shaped valley for the mouth. Insert slivered almonds for the teeth. Another fun option is to use nut butter "drool".
Cheesy Ghosts:
Create a stack of sliced cheese. We used Andrew & Everett's Provolone. Use a paring knife or cookie cutter to carve out a ghost shape. Use a marker cap to punch out the eyes.
Witchy Brooms:
Slice a mozzarella string cheese stick into thirds. Use a paring knife to slice broom fringe into the bottom half of each segment, then poke a pretzel stick into the top half of each segment and tie a chive around the top.