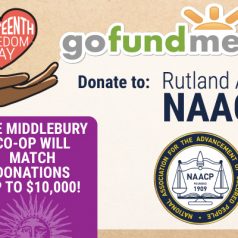 Juneteenth, on June 19, is the nationally-celebrated commemoration of the end of chattel slavery in the United States. The holiday has its origins in Galveston, Texas, where on June 19, 1865, enslaved Black Americans were notified of their freedom by Union soldiers. This was more than two years after the Emancipation Proclamation was issued by President Abraham Lincoln in 1863.
There has been some progress since then in regards to racial equality. The 13th, 14th, and 15th Constitutional Amendments – known as the Civil War Amendments – promised an end to slavery, the equal protection of the law, and universal adult male suffrage, respectively; the passage of the Civil Rights Acts of 1957 and 1964, the Voting Rights Act of 1965, and the Fair Housing Act of 1968, outlawed Jim Crow era discrimination based on race. However, the legacy of slavery and white supremacy persists in every aspect of American life, and so the struggle for civil rights continues.
On Juneteenth, many Black Americans enjoy spending time with family, friends, and loved ones, celebrating Black history, survival, and resilience. Because this day commemorates when the last enslaved Black Americans in Texas were informed of their freedom, this holiday is often referred to as Freedom Day, Emancipation Day or Black Independence Day. Right now, 47 out of 50 U.S. States officially recognize Juneteenth, including Vermont. Nationally, all Americans can celebrate what Juneteenth represents. This day is a call to action! Learn about the fight for racial justice in America. Address the ongoing movement for Black liberation. Organize with your community to dismantle the forms of oppression that continue to discriminate against Black folks. Honor the work of Black leaders who have made extraordinary contributions to the shared story of American progress and to a future where Black Americans are truly free. Last but not least, this Juneteenth, please join your Co-op to support the work of the Rutland Area NAACP.
The NAACP is an American institution of essential historic and cultural significance. With the vision of ensuring a society in which all individuals have equal political, educational, social, and economic rights without discrimination based on race, the NAACP was founded in 1909 in response to riots protesting the form of anti-Black violence known as lynching in Springfield, Illinois. There are now over 2,200 chapters with more than a half-million members. The Association continues to be instrumental to the civil rights movement, waging legislative battles, producing publications, and organizing mass protests in order to secure equal rights on the local, state, and federal levels. Through democratic processes, the Association works to remove all barriers of racial discrimination to achieve equality of rights for American citizens. In the 21st century, the Association is focused on six Game Changers: Economic Sustainability, Education, Health, Public Safety, and Criminal Justice, Voting Rights, and Expanding Youth and Young Adult Engagement. The Rutland Area Branch of the NAACP is dedicated to eliminating racial discrimination in Vermont, provides resources for the protection of civil rights for minorities, and offers opportunities for anti-racist engagement for all Vermonters.