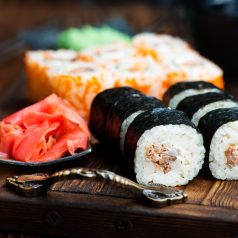 The weekly sale from March 1st – 7th is a celebration of makizushi, which is the Japanese word for sushi! Have you ever tried making your own sushi at home? It's easier than you might think, and with many of the ingredients on sale, it's a great time to give it a try! Below are some simple steps for rolling your own sushi at home:
What you'll need:
Nori sheets – find these in the weekly sale display or in Grocery aisle 3
Sushi rice – see weekly sale display or find in the Bulk department
Fillings of your choice – the weekly sale display will feature tuna steaks and avocados. Other fun fillings include cucumber, carrot, daikon radish, sprouts, pickled veggies – get creative!
Sushi Roller Mat – Find these in aisle 1, or you can try using a dish towel or Silpat mat
Plastic wrap – to prevent ingredients from sticking to the mat
Sauces, Dips, and Garnishes – tamari will be featured in the weekly sale and you can find other traditional sushi complements like pickled ginger and wasabi in Grocery aisle 3
A bowl of water and a dry cloth – keeping your fingers dry while handling the nori and well moistened while handling the rice is key to assembling great sushi
What to do:
Cook sushi rice until tender and allow it to cool to room temperature.
Lay out your sushi mat and top it with a piece of plastic wrap.
With dry hands, lay one sheet of nori, rough-side-up, onto the mat.
With well-moistened hands, spread a thin, even layer of sushi rice on top of the nori leaving about an inch of space at the top of the nori sheet.
Lay down your fillings in a single line across the center of the rice layer. A little goes a long way and overstuffing can easily lead to busted rolls. It helps to have veggies sliced into long, thin, matchsticks and fish shaved into long, thin strips cut at an angle across the grain.
Place your thumbs under your bamboo mat on the edge closest to you and roll away from you with gently curved hands to shape the roll into an even log, tucking the sushi contents snugly into the nori and pulling away the excess mat and plastic wrap as you roll.
Slice the log into even segments using a sharp knife and allow to rest for a few minutes until the nori loses its crackly crispness. Serve with the sauces & garnishes of your choice!