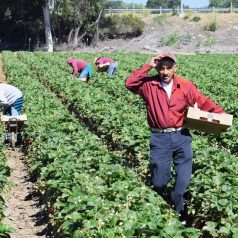 At a rally in Middlebury a few weeks ago to protest police brutality against Black people, a pick-up truck full of young men sped by the line of protesters and one leaned out the window to yell, "All lives matter!". Maybe he thought he was being clever, but clearly it's important to keep pointing out why Black lives matter in particular. We are seeing the many ways police target people of color— it's nothing new, but impossible to deny with video-cams and courageous citizens filming assaults on their smartphones.
If indeed all lives matter, why do Black Americans consistently have fewer opportunities to lead long, healthy lives? And why are people of color up to five times as likely to be hospitalized or to die from COVID-19 as whites? Although injustices in the ways police and courts treat people of color compared with whites are a huge reason, many of the answers are baked into our food system. This food system has been exploiting people of color from plantation days through the present, stealing their land, and denying them access to resources, information, and markets that are open to whites.
We now know that dying from COVID-19 is much more likely for people who have diabetes, obesity, or other diet-related diseases. Diet-related diseases are more common among people of color: for example, diabetes affects 7.5% of the white population in the US, but 11.7% of Blacks, 12.5% of Latinx, and 14.7% of Native Americans. People of color have more diabetes and other diet-related diseases not because they prefer to eat less healthy food, but because healthy food is less accessible and affordable where they live.
Poverty affects the ability to buy healthy food, and people of color are more likely to live in poverty than whites. The percentage of white people in poverty in 2018 was 10.1%, but 20.8% of Blacks, 17.6% of Latinx, and 25.4% of Native Americans. Reasons include big differences in assets held by each race (part of the legacy of redlining), wage and employment discrimination, and the shockingly high rates of incarceration for Blacks and difficulties getting a job after being released. Claims for economic reparations are getting more visibility, as the US learns more about the economic disadvantages borne by people of color. Poverty affects access to education too: plenty of white people have poor diets, but their ability to get well-paying jobs and learn how to improve their health through education is greater than the opportunities open to people of color.
Finally and perhaps most perversely, people of color hold most of the lowest-paid jobs in the food system: farmworkers, food-processing workers, meatpackers, supermarket stockers, etc. These jobs have finally been recognized as "essential", but fair compensation, protection from COVID-19, and access to healthcare and childcare haven't followed.
Our food system doesn't have to exploit people of color. But we'll need to accept paying the true cost of food (and accept subsidizing more federal food assistance for people whose wages won't cover that cost). Our expectation of cheap food makes us complicit in this exploitative system.