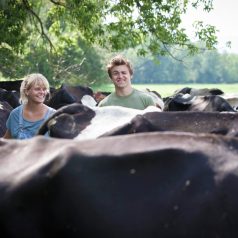 Our Co-op Spotlight is shining brightly on Kimball Brook Farm! Their full line of products is 20% off for member-owners from March 28th – April 3rd. Read on to learn more about one of Vermont's finest family-owned organic dairy farms: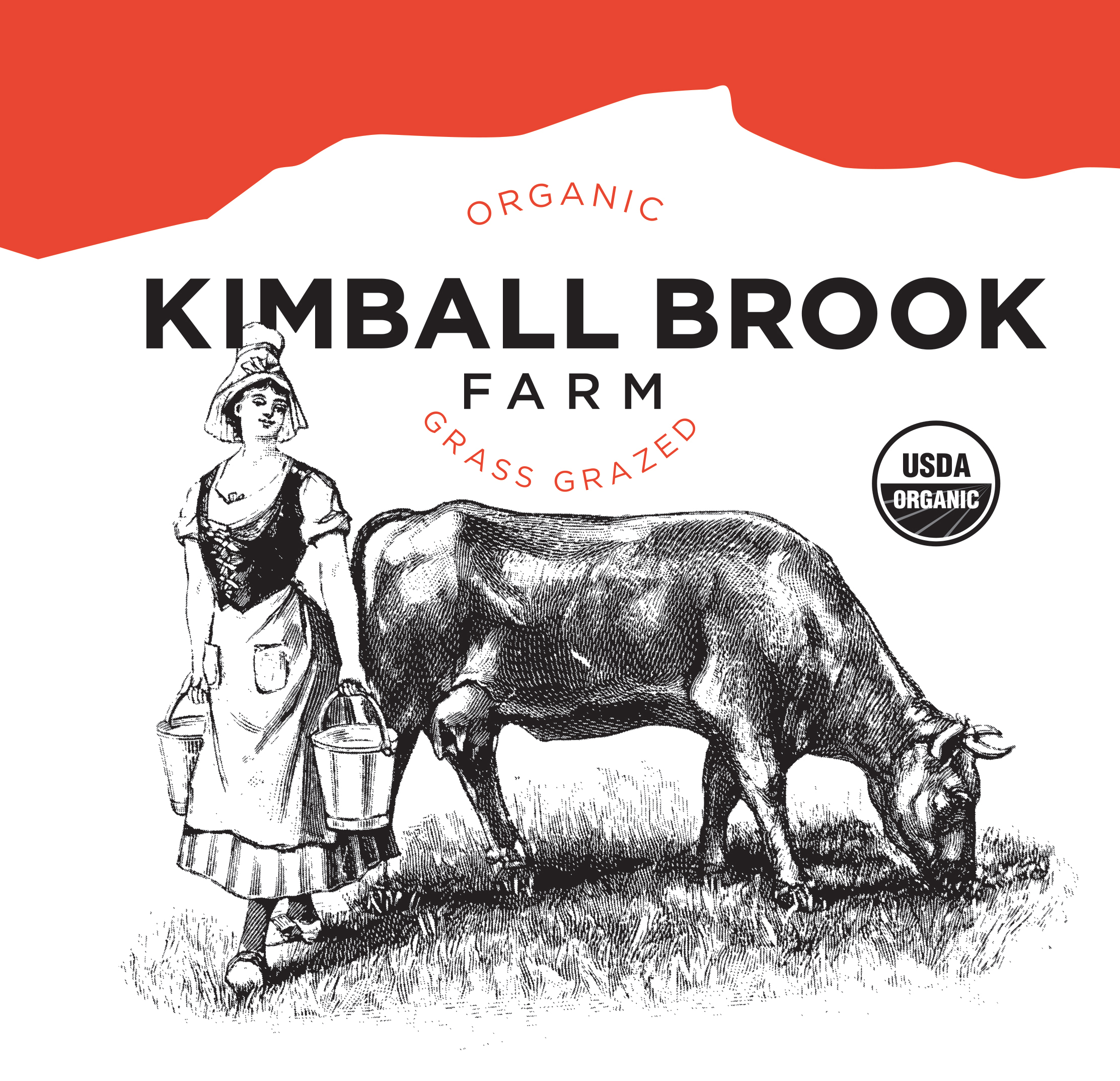 History
Kimball Brook Farm was first settled by Daniel Kimball in the late 1700s. Daniel and his sons continued running the farm until it was purchased by Edward Danyow in 1960.
The DeVos family purchased the farm in 1967 and on June 1, 1968, John De Vos Sr. and his son John De Vos Jr. moved their complete herd (50 cows), machinery and households from Monroe, New York to the Kimball Brook farm in North Ferrisburgh, Vermont.
John De Vos Jr. and his wife Sue operated the farm for over 30 years raising three sons and one daughter on the farm. The eldest son, John De Vos III (JD) and his wife Cheryl took over the business in 2001, expanding the herd from 80 cows to 200 and added a milking parlor.
In 2003, JD and Cheryl began transitioning the 220 cow farm to an organic operation and Kimball Brook Farm became one of the largest certified organic dairy operations in the State of Vermont. The first shipment of organic milk was in September 2005. In 2010, they began the process of pursuing another dream of opening their own creamery in the former Saputo Cheese plant in Hinesburg. This would allow them to assemble, bottle, and package all of their own products. In June of 2011, they were awarded the VT Dairy Farm of the Year award and by May of 2012, they were celebrating the official opening of Green Mountain Organic Creamery.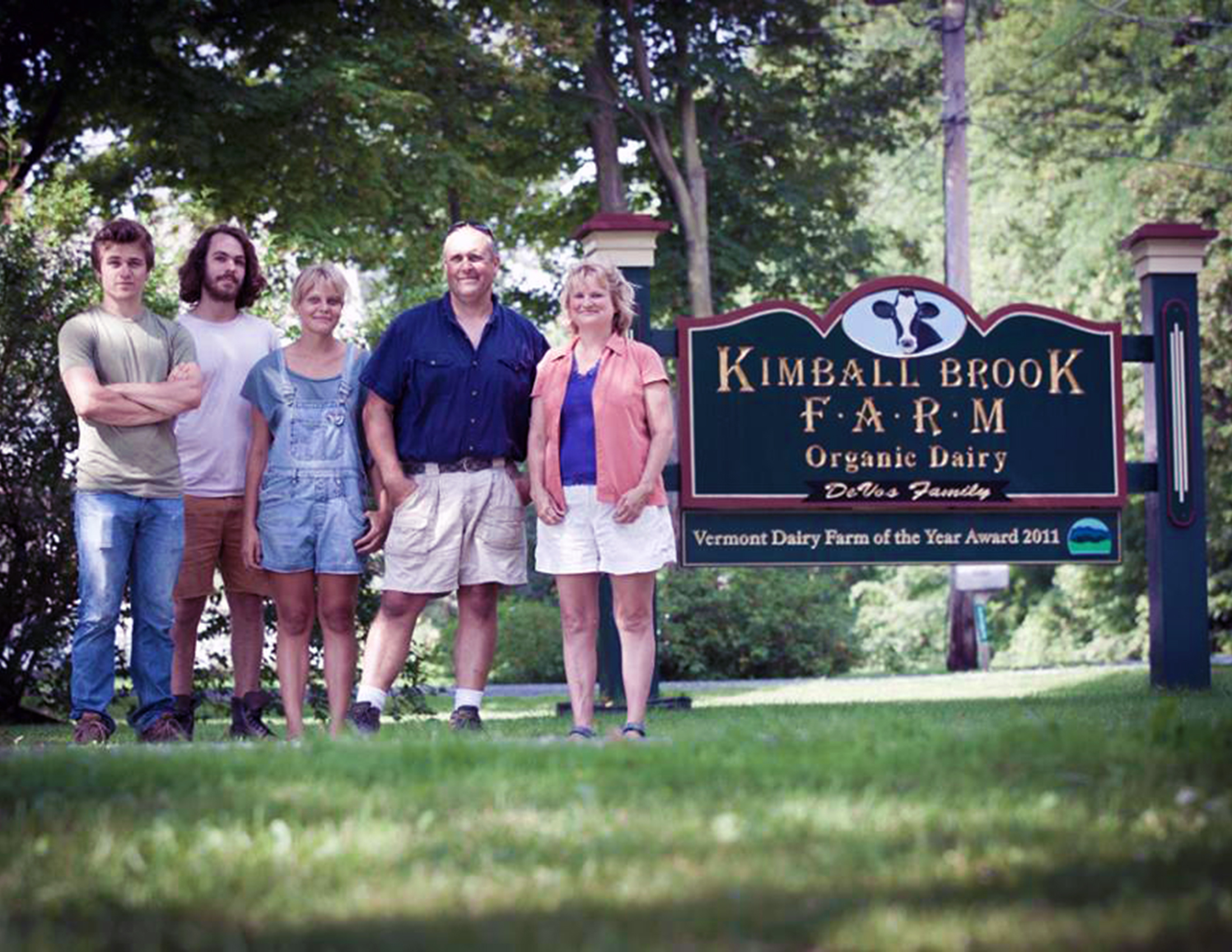 At the Co-op, you can find a broad selection of Kimball Brook Farm's organic products including Whole Milk, Cream, Chocolate Milk, Maple Milk, Mocha & Coffee Flavored Iced Cappuccino, Butter and Iced Teas. Also be sure to check out their newest additions to the lineup: Maple Lemonade, Strawberry Ginger Lemonade, and a line of teas and lemonades with CBD!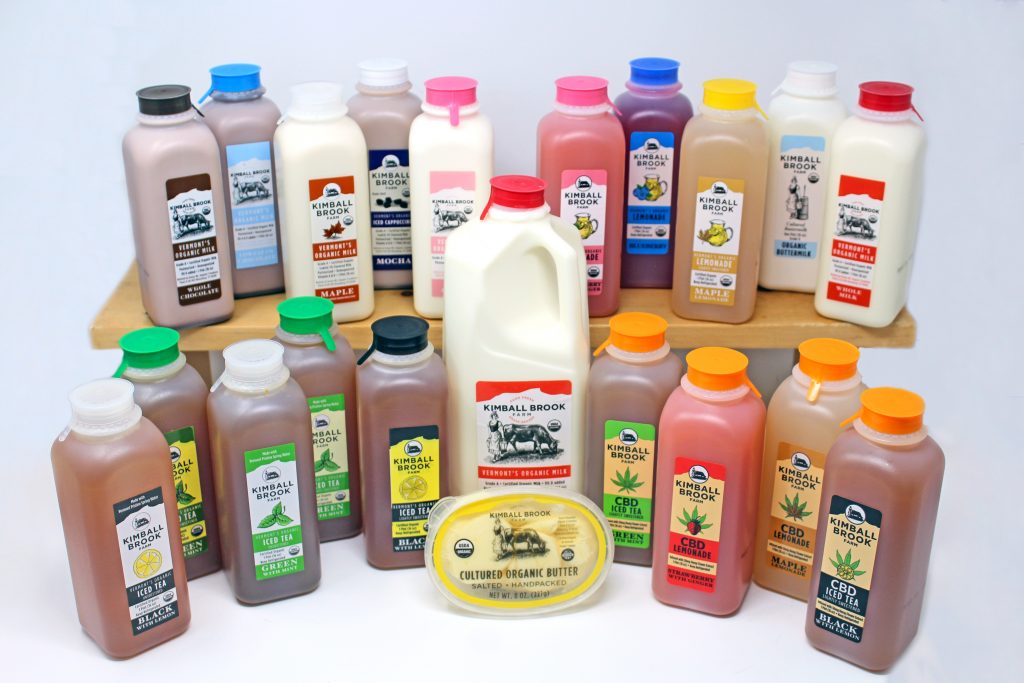 The Herd
The herd at Kimball Brook Farm consists of Holsteins, Jerseys and Jersey/Holstein crosses. During the growing season, their cows and heifers(teenagers) can be found happily grazing on the lush grasses their pastures provide. The cows that are being actively milked also get some mixed legumes and grains at the barn to provide them with the extra energy they need to produce rich, organic milk.
The Devos family believes that by maintaining the health of the land and the health of the cows, they can provide fantastic organic milk free of Growth Hormones, GMO's, Pesticides, Herbicides and Antibiotics for consumers to enjoy.
Check out this fun video showing how Kimball Brook Farm milk gets from the cow to your kitchen table: