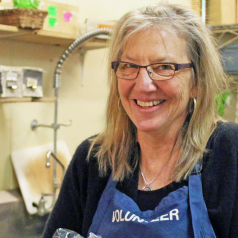 For decades, one of the benefits offered to member-owners here at our co-op has been the opportunity to work in the store for an additional 10% discount. Members have typically helped out in the bulk department, dividing large quantities of food items and packaging them into smaller portions. Unfortunately, due to COVID-19, our member-worker program is temporarily suspended. The reason is that in order to reduce staff exposure to the COVID-19 virus, we are severely limiting the number of people in our backroom.
Member-workers have been extremely understanding about this, but we are still asked when the program will return. The answer is that we love our member workers, as well as this program, and plan to bring it back as soon as we feel it is safe to do so.
This past August, during our annual election, there was a member vote about putting language about the member-worker program into the Co-op bylaws. Even though this vote did not pass, the entire Leadership Team (Board and Management) wants to let you know that we are deeply committed to keeping this program going at the Co-op. We know that it's both an important way for members to earn an additional discount, and an important option for deeper member-owner engagement in this community-owned business. Meanwhile, you can be sure that when we feel it is safe to start the member-worker program back up again, we will make sure to let you know. Thanks for sticking with us on this.
For more info on the member-worker program, check out this link:
https://middlebury.coop/join/membership-categories/working-member/