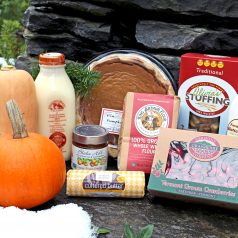 Looking to stock up your pantry with holiday staples from local farmers and producers? Here's a handy guide to the local offerings by department:
Produce
The produce department is bursting with holiday staples from local farms including plenty of winter squash, potatoes, carrots, parsnips, beets, turnips, rutabagas, apples, apple cider, cabbage, cranberries, and winter greens like kale and spinach. The local farms we have to thank for this abundance include Golden Russet, Elmer Farm, Four Pillars Farm, Burt Rock Farm, New Leaf Organics, Harlow Farm, Champlain Orchards, Sunrise Orchard, and Vermont Cranberry Company.
Bulk
In Bulk, you'll find lots of local items to meet your holiday baking needs including whole wheat flours, all-purpose flours, bread flours, pastry flours, and cornmeal thanks to the fine folks at Gleason Grains, King Arthur Flour, Champlain Valley Milling, and Nitty Gritty Grains. You'll also find local maple syrup from Hillsboro Sugarworks and honey from Singing Cedars Apiaries.
Grocery
The grocery department is well stocked with local holiday favorites including packaged flours from King Arthur Flour; culinary oils from Full Sun Company; Olivia's stuffing; maple syrup from Hillsboro Sugarworks and Shaker Maple Farm, honey from Lemon Fair Honeyworks, Singing Cedars, Champlain Valley Apiaries, However Wild Farm, and Ariel's Honey Infusions; maple sugar from Little Hogback Farm; pie crusts from Krin's Bakery; pepper jelly from Jed's Northeast Kingdom; and an abundant selection of jams, preserves, and chutneys from Blake Hill Preserves.
Cheese & Dairy
Our cheese case boasts over 100 different local cheese options for your holiday cheese and charcuterie platters!  There are far too many to name here, but the cheese department staff is always happy to offer suggestions for fabulous cheese platters and pairings. For local holiday staples in the dairy case, look for milk & heavy cream from Monument Farm, Strafford Organic Creamery, and Kimball Brook Farm. Also be sure to check out the famous butter & buttermilk from Animal Farm and fantastic cream cheese from Champlain Valley Creamery. Vermont Creamery has you covered for local butter, mascarpone, and crème fraîche, plus there are plenty of eggs from a number of local farms. Oh, and don't miss the local eggnog from Strafford – it's a staff favorite!
Deli & Bakery
An abundance of freshly baked bread and rolls come to us from Red Hen, The Bakery, The Manghis', Green Rabbit, O Bread, La Panciata, and Klinger's. You'll also find local stuffing mix from La Panciata along with a gluten-free stuffing mix from West Meadow Bakery. 'Tis the season for pies and in the bakery you'll find fresh fruit pies from Krin's Bakery, Vermont Gluten Free, Champlain Orchards, and Red Door Bakery.