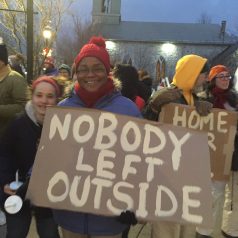 It's winter in Vermont.  While most of us are cozy in front of our wood stoves and heaters, hundreds of Vermonters have no place to call home. No place to cook a meal, get warm, take a shower, or do homework. No place where they feel safe and secure.  For thousands of homeless Vermonters, John Graham Housing and Services has been the answer to this enormous challenge.
During the week of February 9-15, you can help them answer that challenge by rounding up your total at the register (or donating even more, if you can!).  The Co-op will match whatever is raised by our shoppers and donate it to this amazing organization.  The Shelter will use the Rally for Change funds to deliver healthy food to homeless families and individuals living at their five buildings, and to provide first month's rent and deposits directly to people who are moving into permanent housing. In other words, every cent raised through the Rally for Change will go directly food and housing for homeless people.
Since 1980, John Graham Housing and Services has been providing:
Food, Shelter and Housing
Services and Support to help transform lives
Prevention and Intervention in times of crisis
The organization began as a shelter for individuals, but about twelve years ago, it evolved into  an emergency shelter that could also accommodate families.  Today, in addition to providing emergency shelter for around 25 people at their main building in downtown Vergennes, John Graham also owns and operates other housing units in town, as well as in Bristol and Middlebury.  Each year, John Graham helps find housing and support services for around 200 individuals.  While many of these clients use the services of their emergency shelter, many more benefit from assistance with long term housing, which helps them establish a rental history and move on to more self-sufficient housing opportunities.  Many clients also benefit from clinical support services, to help with the mental and emotional health issues that so often go hand in hand with homelessness.  Please take a few minutes to watch this video about the shelter.
A note from John Graham Housing and Services:
As a state, we have made tremendous progress in ending homelessness. The number of homeless individuals dropped by 29% from January 2014 to January 2016. And yet still, well over a thousand Vermonters will live outside or in emergency shelter this winter.
With your help, we can provide food, shelter, and hope to transform the lives of our neighbors.
The following is a report about the state of homelesness in Vermont, from the John Graham Housing & Services web site:
Putting Homelessness into Perspective
HOUSING IS TOO EXPENSIVE FOR VERMONT'S WORKING FAMILIES
There is not a single state in the country where a full-time minimum-wage worker can afford a market-rate one or two-bedroom rental.14 Vermont is no exception. Rising rents, stagnating wages, and an extreme lack of affordable housing mean that Vermont families have less and less access to safe and stable housing. At the same time, rates of homelessness are on the rise, and families are staying longer in shelters.
The 2015 statewide average for a market-rate two-bedroom apartment was $1,076. In Chittenden County it was $1,328.17 In order to afford these rents without being cost burdened (see sidebar), a full-time worker would need to make between $20.69 and $25.54 an hour. In other words, a household relying on minimum wage would need to work 111 hours per week- or nearly three full time jobs-to afford market- rate rent in Burlington.15
Renters in Chittenden County are among the most cost-burdened in New England.16 More than half (53 percent) of renter households in Chittenden County pay more than 30 percent of their income towards rent, and 28 percent spend more than half of their income on rent. Cost burdens are nearly as high in Vermont as a whole, with 48 percent of renter households in the state spending more than 30 percent, and 24 percent spending than half-or more-of their income on rent.17
The impossible choice between shelter, adequate food, childcare, heating, and healthcare is a significant stressor for thousands of cost-burdened Vermont families. There are no good places to cut corners when there is not enough money for basic necessities.
At John Graham, most able residents work full-time and are still unable to afford decent housing. In order to bridge the gap between low wages and high cost of living, we work to connect clients with the programs and subsidies they need for their families to thrive.
The Fair Market Rent for the average two-bedroom apartment in Addison County is $946. If we assume that rent is 30% of income, a family would need to earn $3,153 monthly or $37,840 each year to keep up with the bills.
Most of the parents we serve work at stores, gas stations, restaurants, farms or at entry level manufacturing jobs. They just can't afford rising rent. To add to the problem, there are not enough affordable rental units available. The lower the income threshold, the greater the shortage of affordable and available units. Addison County has fewer than 30 units available for every 100 households with very low incomes!
In addition, many contributing factors of stress on individuals foments widespread drug abuse. Opiate addictions in VT increased by 770% between 2000 and 2014. Deaths from overdose have multiplied in recent years. And the number of alleged child abuse or neglect cases filed in courts across Vermont has also climbed. Some experts attribute this rise to the impact of opiate addiction and increased homelessness on child safety.
A contributing factor to Vermont's high rents is the extremely low vacancy rate statewide. Approximately 29 percent of Vermont families are renters, but there is an extreme shortage of affordable rental units. While nationwide vacancy rates hover around 7 percent, Vermont faces a 1 percent vacancy rate.18
Subsidized units and units with more than three bedrooms for larger families are in particularly short supply, with zero percent vacancy and long wait lists in large renter areas like Chittenden County.19 The result is that low-income families are increasingly pushed into overcrowded and substandard housing.20
Families struggling with unaffordable housing costs often face impossible choices between essential expenses. In Vermont, harsh winters make heating costs a crucial budget item, but 20 percent of state residents spend an unaffordable amount of their income on fuel. Vermont is consistently the least affordable state in the country when energy costs are measured as a percent of household budgets.22
A household that spends more than 10% of its income on fuel is considered to be "Fuel Poor." According to a recent report by the Vermont Low Income Trust for Electricity, 125,000, or 1 in 5, Vermonters were fuel poor in 2012, up 76 percent since the year 2000. The poorest 30 percent of households spent an average of one sixth of their income on fuel, and nearly 60 percent were considered fuel poor. 23 In the 13,000 households surviving on less than half of the federal poverty level, 56 percent of income went to energy costs.24
While fuel poverty is much more common and extreme among low-income households, a substantial number of Vermonters at all income levels are classified as Fuel Poor. Expensive fuel, energy-inefficient homes and appliances, and houses that are too big for current occupants (as is the case with many elderly people experiencing fuel poverty) can all contribute to unaffordable fuel costs.
Fuel poverty can have serious negative impacts on the health and wellbeing of children, elderly people, and those with long-term illnesses. These vulnerable populations often spend more time at home and need to heat their homes throughout the day. Cold and damp houses lead to increased occurrences of respiratory and circulatory illness, including bronchitis, asthma, and strokes. Under-heated houses are also associated with increased severity of seasonal colds and flu and arthritic symptoms, and children living in these homes are twice as likely to have asthma, bronchitis, and to miss school because of illness.25 These conditions, paired with the reality that many poor families reduce food intake to pay for fuel, mean that infants in low- income households without access to fuel subsidies are more likely to be low weight and require emergency medical care.26
In 2014, residents statewide spent a total of $206 million more on energy costs than is considered affordable.27 At least 30,000 households living below the poverty level were Fuel Poor in 2014, paying between 30 percent and 56 percent of their income to cover energy costs,28 but only 6,628 households received essential state assistance for their energy bills.29 Energy Assistance funding levels for 2014 met just 8 percent of the need for households experiencing this affordability gap.30
FAMILY AND CHILD HOMELESSNESS IS A GROWING PROBLEM IN VERMONT
On January 27, 2015, a coalition of statewide groups counted 1,523 homeless Vermonters. Nearly one in five households counted included children.31 A one-night count in December 2014 showed that more than a quarter of those staying in state-funded shelters were children.32 More than half of those counted were families with children or unaccompanied youth.
Vermont has one of the highest rates of homelessness in New England, second only to Massachusetts. With over 23 people experiencing homelessness per 10,000 residents, Vermont's rate of homelessness is 20 percent higher than the national average. Furthermore, although there was a 3.7 percent decrease in the number of people who experienced homelessness nationally from 2012 to 2013, Vermont saw a 25.34 percent increase in overall reported homelessness and a 48.52 percent increase in family homelessness.33
During the 2013-2014 school year, 1,145 homeless youth were enrolled in Vermont schools. While the majority of these students were "doubled up," staying with friends and couch surfing, more than 1 in 7 was living in a shelter, campground, car, or was otherwise un-housed.34 The number of homeless students in the state is up 46 percent from 2010 after a peak of 1,202 students in 2012 following displacement due to Tropical Storm Irene. This general upward trend in the number of homeless youth reported for the past several years is particularly notable because declining enrollment statewide means that the portion of homeless students continues to rise.35
END NOTES
14. National Low Income Housing Coalition (2015), Out of Reach 2015: http://nlihc.org/oor
15. According to Housing and Urban Development (HUD) – determined 2014 Fair Market Rent (FMR) rates, based on the 40th percentile of prices of unites rented across a region in the past15 months. http://www.huduser.org/portal/datasets/fmr.html
16. Mauricio K (2013), Mapping New England: Rent Cost Burden over 30 percent by county, in "Communities & Banking," vol 24, no 1, winter 2013.  Federal Reserve Bank of Boston.
17. U.S. Census Bureau, 2009-2013 5-Year American Community Survey, Table B25070: Gross Rent as a Percentage of Household Income in the Past 12 Months, accessed via American FactfFinder.
18. Callis R and Kresin M. (2015), Residential Vacancies And Homeownership In The Fourth Quarter 2014, U.S. Department of Commerce, Social, Economic, and Housing Statistics Division.
19. Bowen, Patrick M (2015), Vermont Statewide Housing Needs Assessment. Prepared for Vermont Department of Housing & Community Development by Bowen National Research, pg 73.
20. Bowen, Patrick M (2015), Vermont Statewide Housing Needs Assessment. Prepared for Vermont Department of Housing & Community Development by Bowen National Research, pg 74.
21. Teller-Elsberg, Sovacool, Smith, and Laine (2014), ENERGY COSTS AND BURDENS IN VERMONT: BURDENSOME FOR WHOM?, prepared by the Institute for Energy and the Environment at Vermont Law School for the Vermont Low Income Trust for Electricity, pg 5.
22. Fisher Sheehan Colton (2012), Home Energy Affordability Gap Ranking:  Dollar Gap per Household by State.
23. Teller-Elsberg, Sovacool, Smith, and Laine (2014), ENERGY COSTS AND BURDENS IN VERMONT: BURDENSOME FOR WHOM?, prepared by the Institute for Energy and the Environment at Vermont Law School for the Vermont Low Income Trust for Electricity, pg 4
24. Fisher, Sheehan& Colton (2015), The Home Energy Affordability Gap 2014 {2nd Series): Vermont, pg 1. available at http://www.homeenergyaffordabilitygap.com/03a_affordabilityData.html
25. MarmotReviewTeam(2011),  TheHealthImpactsof Cold Homes and Fuel Poverty.  Friends of the Earth.
26. Teller-Elsberg, Sovacool, Smith, and Laine (2014), ENERGY COSTS AND BURDENS IN VERMONT: BURDENSOME FOR WHOM?, prepared by the Institute for Energy and the Environment at Vermont Law School for the Vermont Low Income Trust for Electricity.
27. Fisher, Sheehan& Colton(2015), The Home Energy Affordability Gap 2014 {2nd Series): Vermont, pg 2. available at http://www.homeenergyaffordabilitygap.com/03a_affordabilityData.html
28) ibid.
29) Fisher, Sheehan& Colton(2015), The Home Energy Affordability Gap 2014 {2nd Series): Vermont, pg 1. available at http://www.homeenergyaffordabilitygap.com/03a_affordabilityData.html