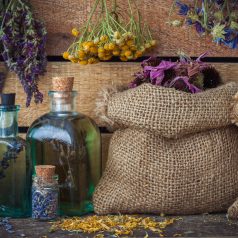 Have you ever found yourself wandering the aisles of the Wellness Department wishing that an expert Herbalist would magically appear to help you choose the perfect remedy for what ails you? You're in luck! Thanks to a partnership we've dubbed "Herbalist in the Aisle", local Herbalist Julie Mitchell of EOS Botanicals will be on hand to answer your burning herbal wellness questions!
Julie Mitchell is an educator, gardener, and herbalist who lives in New Haven, VT. She is the founder and owner of EOS Botanicals. The art and the science of being an herbalist has been a compelling force in her life for over 30 years. Motivation to engage in this path centers on the intention of being of service to her community. She has been a volunteer herbalist for free clinics both here in Vermont and Nicaragua and an herbal educator for all levels and all ages. We have been lucky to have her teach workshops for the Co-op as part of our Co-op Classes at the Hannaford Career Center, including this exciting class on Topical Herbal Hydrotherapy coming up on April 17th! She is a gardener, wild-crafter, artist, editor, herbal product manufacturer, and herbal/health consultant, all with the intention to further both the health of the individual, as well as the health of the environment.
Julie considers her scope of practice to be inclusive to many challenges to our well being. A more focal interest has been working with systemic inflammatory concerns with the emphasis on digestive health, the many aspects of healthy aging, tick-borne diseases and women's reproductive health. She holds both a BSc, MSc degree in Herbal Medicine from the University of Wales, U.K., and is a professional member of the American Herbalist Guild.
If you'd love to chat with Julie, here are the dates that you can find her in the Wellness department: