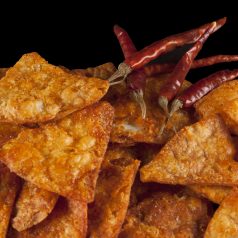 As we kick off our month-long Eat Local Challenge, we're shining our Co-op Spotlight on Gringo Jack's! Member-owners can enjoy 20% off Gringo Jack's full line of delicious local tortilla chips, salsas, and sauces this week, so it's a great time to plan a localvore fiesta! Read on to learn more about Gringo Jack's, their commitment to sourcing quality local ingredients, and their recently launched Chip In campaign.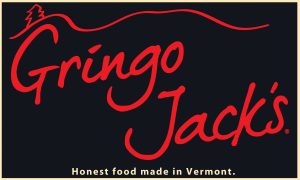 Our Mission
At Gringo Jack's, we're dedicated to producing handcrafted, flaky tortilla chips along with natural, vegetarian sauces and salsas – always successfully pre-tested in our own restaurant kitchen. We promise to always prepare each recipe in small batches, with only quality ingredients – no fillers or preservatives – giving the consumer the means to create a healthy, gourmet WOW without the extra work. We stand for taste, quality, and uniqueness, always.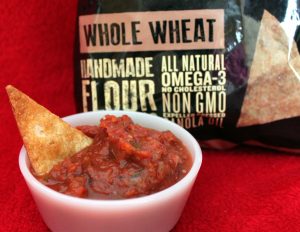 Who Are We
We're just a bunch of gringos that found ourselves in Vermont. But we're doing our flaky chips, sauces, and salsas better than anyone. Our spices, textures, and flavors will knock your socks off. And we're doing it the all-natural way, without preservatives or ingredients you can't pronounce. Just fresh and authentic ingredients for a fresh and authentic taste. Our Co-Founders are Jack Gilbert and Michele Kropp. Jack is an artist and restauranteur and it's his belief that real flavor comes only from authentic, quality ingredients. Michelle is daughter and wife to two wonderful chefs, and good food is her true passion. Her commitment to real, minimally processed food ensures that Gringo Jack's products are the very best!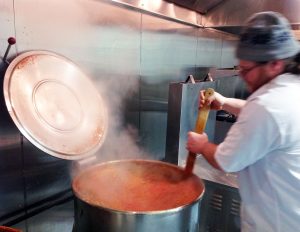 How Are We Different
How are we unique from the other wonderful, healthy products out there? First, we use local ingredients whenever possible. Here's a list of some of the local farmers and producers from which our ingredients are sourced:
In addition to sourcing the best local ingredients whenever possible, we also make our products from scratch. Our BBQ sauces do not contain ketchup – rather, we make our own ketchup. Our chips are so unique with a light, flaky crunch and a hand dusting of spices. We also make all products in small batches to ensure quality in every bag and jar. Bottom line – it doesn't get better or tastier than Gringo Jack's!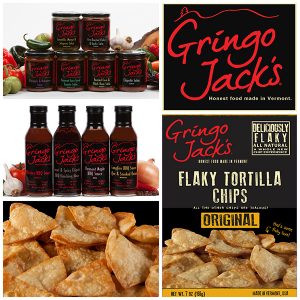 Our CHIP IN Campaign
Calling all Vermonters! We know you already support local and buy local, now you can invest local! CHIP IN is an investment campaign by Gringo Jack's to expand our line of locally produced and sourced specialty food products. It is an opportunity for Vermonters to help grow local business and invest in the economy here at home.
The CHIP IN Campaign will raise capital to expand our product lines and distribution networks. It will also allow us to build new partnerships with local farms, producers and retail establishments, in addition to building a regional food system and more jobs in Vermont.
CHIP IN provides not only the potential for a return on investment, it also allows Vermonters to make a social investment that will help support and grow the local economy.
CHIP IN is made possible by the Vermont Small Business Offering (VSBO). VSBO is a new program that allows Vermonters to make small investments in local businesses and help grow the Vermont economy.
WE NEED YOUR SUPPORT!
We need your help to make CHIP IN successful! Milk Money is the crowd-funding portal for CHIP IN and VSBO. Click here to learn more and INVEST LOCALLY.