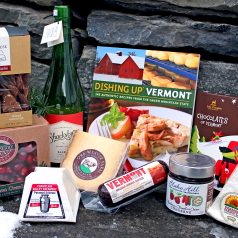 Are you planning to put together a unique local gift basket for someone on your holiday shopping list? Check out this handy guide!
Step 1
Select A Theme – The key to creating a thoughtful gift is to consider and understand your recipient. Is he/she a person you turn to for health and exercise tips? Do they love to cook and always have the latest lowdown on food trends? Or maybe you're shopping for a college student or co-worker? With your recipient in mind, choose a theme they'll love!
Step 2
Presenting Your Present – Everyone loves a pretty package! Keep it simple and pick up one of our ready-to-gift cellophane bags, complete with ribbon, for just $.99, or feel free to get creative! Reusable totes, baskets, and ceramic bowls make fun containers, or you can wrap your items furoshiki-style with a pretty scarf or Co-op t-shirt!
Step 3
Putting It All Together – Below are a few ideas we love to help inspire your unique gift basket: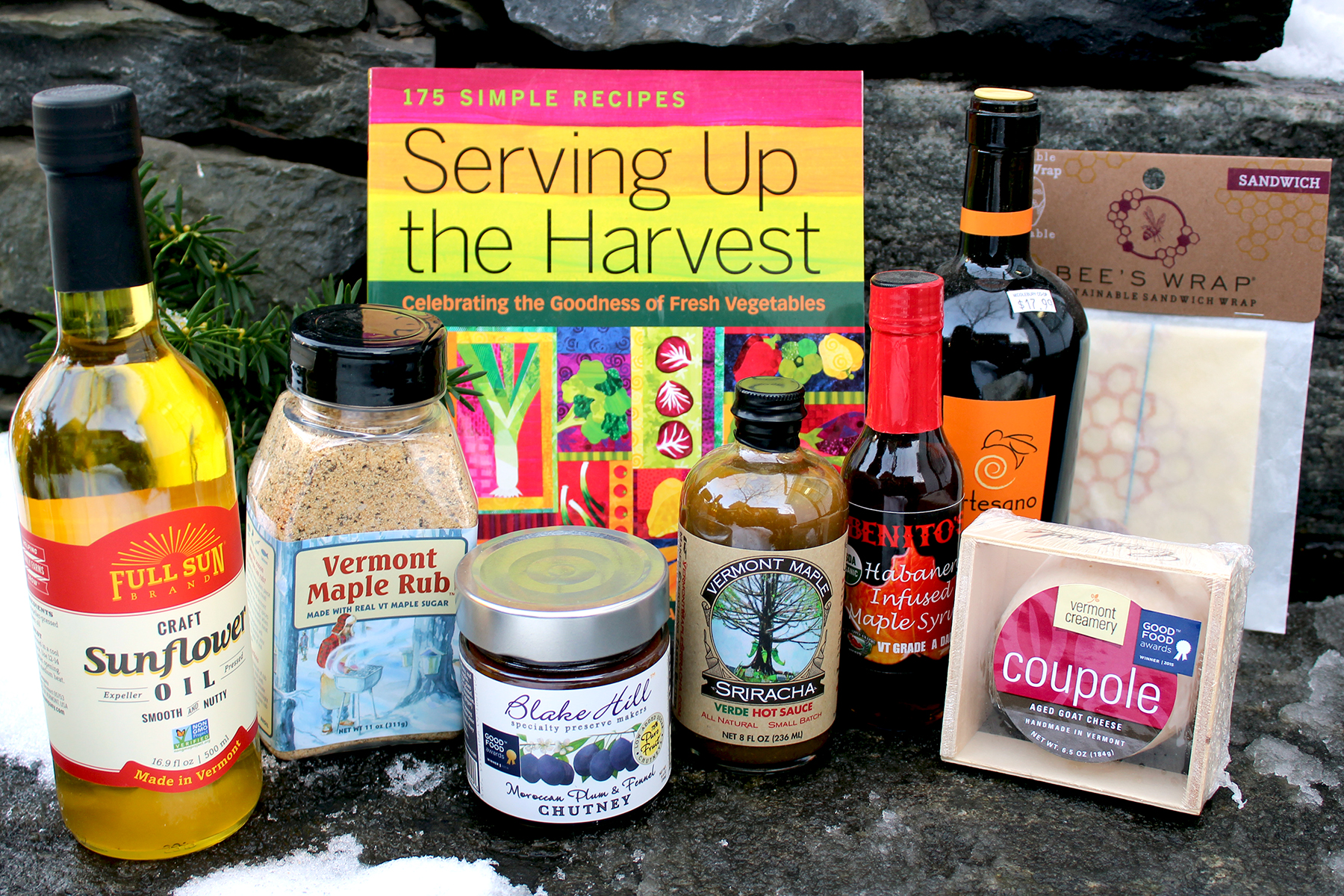 This basket is perfect for your food-loving friend who is always whipping up fabulous meals! It features Full Sun craft culinary Sunflower Oil, Vermont Trade Winds Farm Maple Rub, Blake Hill Moroccan Plum & Fennel Chutney, Serving Up The Harvest cookbook by local author Andrea Chesman, Vermont Maple Sriracha, Benito's Habanero Infused Maple Syrup, Artesano Mead, Vermont Creamery Cupole, and Bees Wrap reusable sandwich wrap.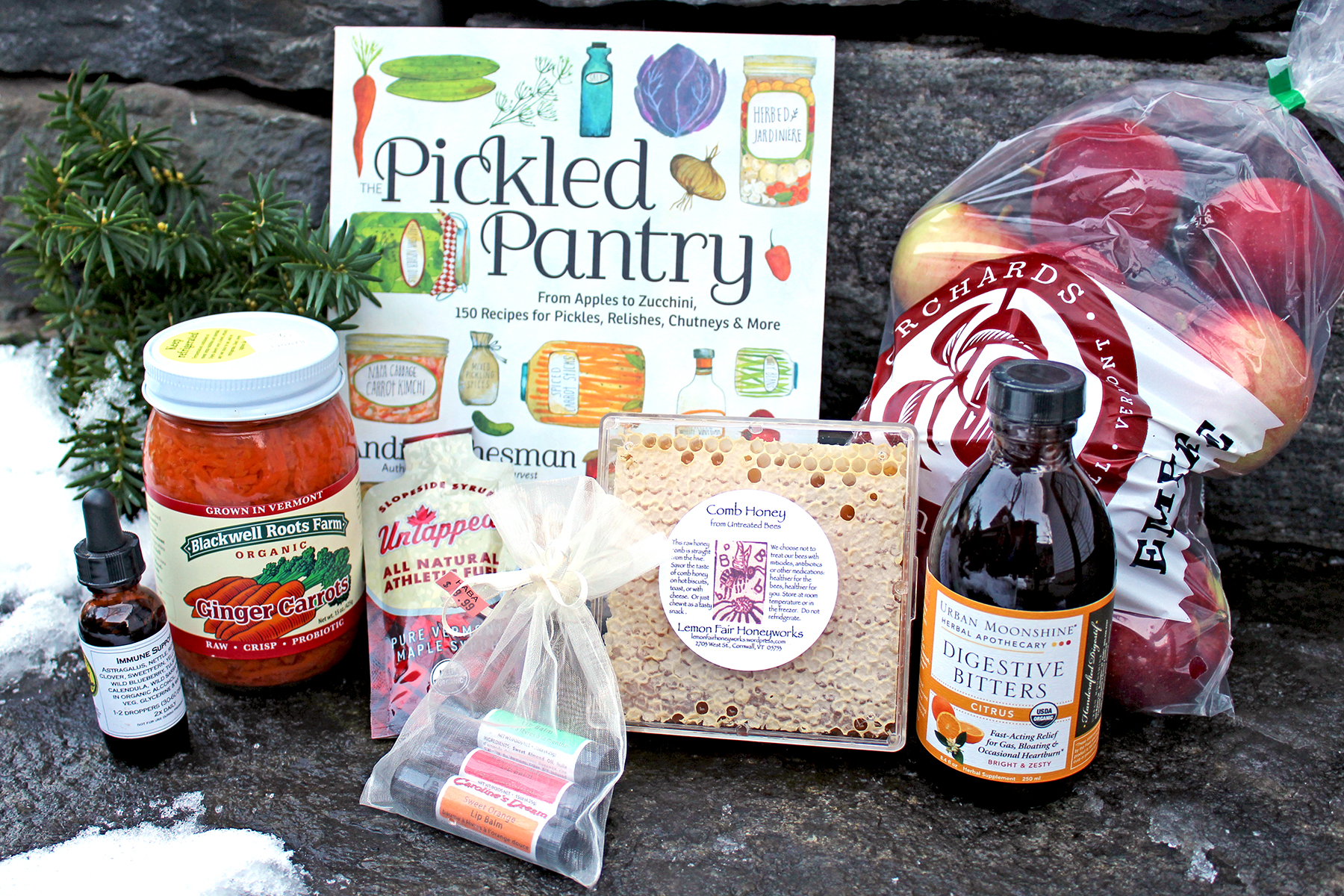 This basket was inspired by your healthy-eating, wellness-boosting, gut-health-promoting, super athletic friend. It features Sweetgrass Herbals Immune Support, Blackwell Roots Farm Pickled Ginger Carrots, Untapped Maple Athletic fuel, Caroline's Dream lip balm 3-pack, Pickled Pantry by local author Andrea Chesman, pure raw honey in the comb from Lemon Fair Honeyworks, Urban Moonshine Digestive Bitters, and apples from Sunrise Orchards.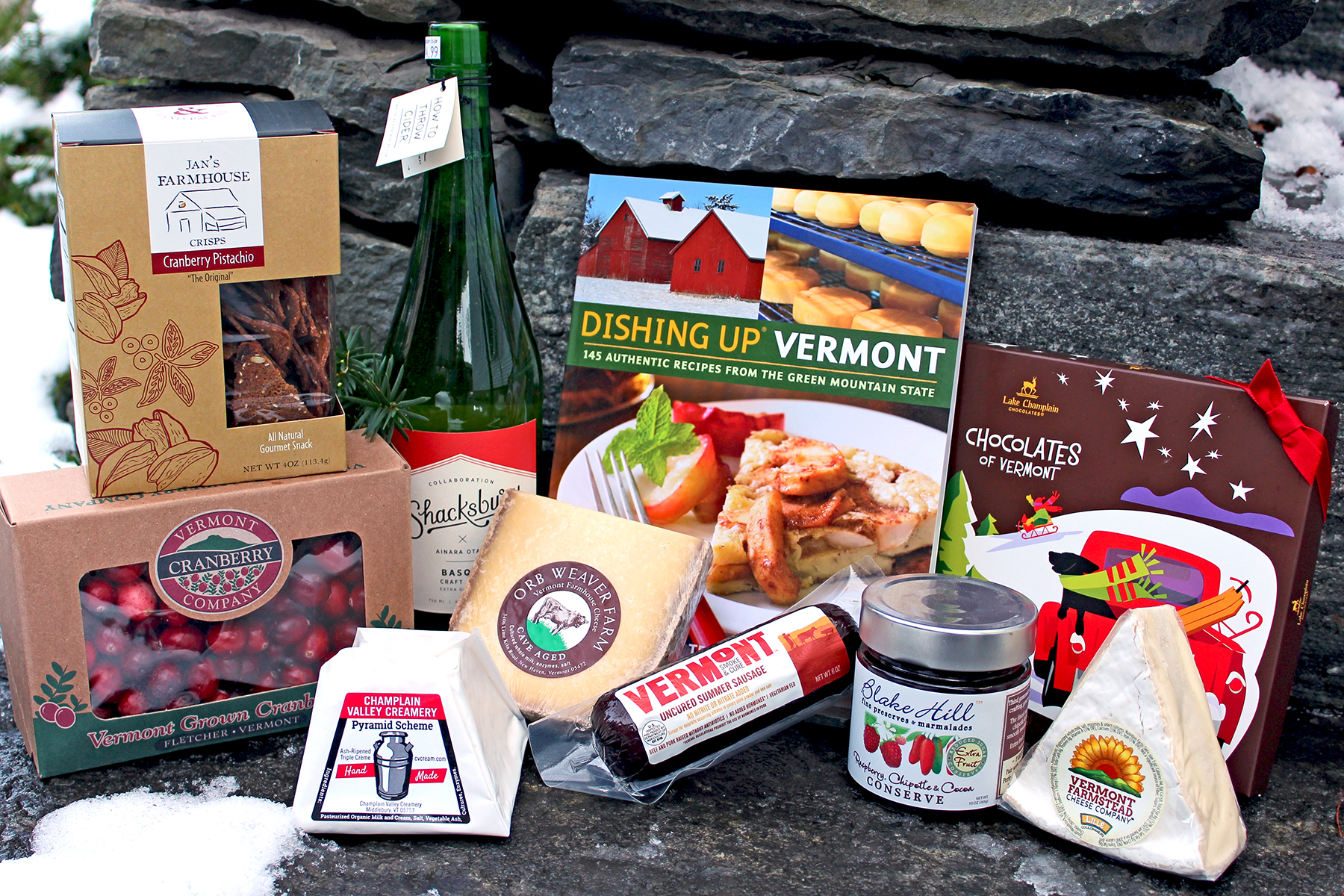 This basket is for anyone who loves to indulge in all things local! It features Jan's Farmhouse Crisps, cranberries from Vermont Cranberry Company, Champlain Valley Creamery's Pyramid Scheme, Shacksbury Basque cider, Cave-Aged Cheese from Orb Weaver Farm, a copy of Dishing Up Vermont by Tracey Medeiros, Summer Sausage from Vermont Smoke & Cure, Raspberry Chipotle Cocoa Conserve from Blake Hill, Vermont Farmstead Lille, and a gift box of Lake Champlain Chocolates of Vermont.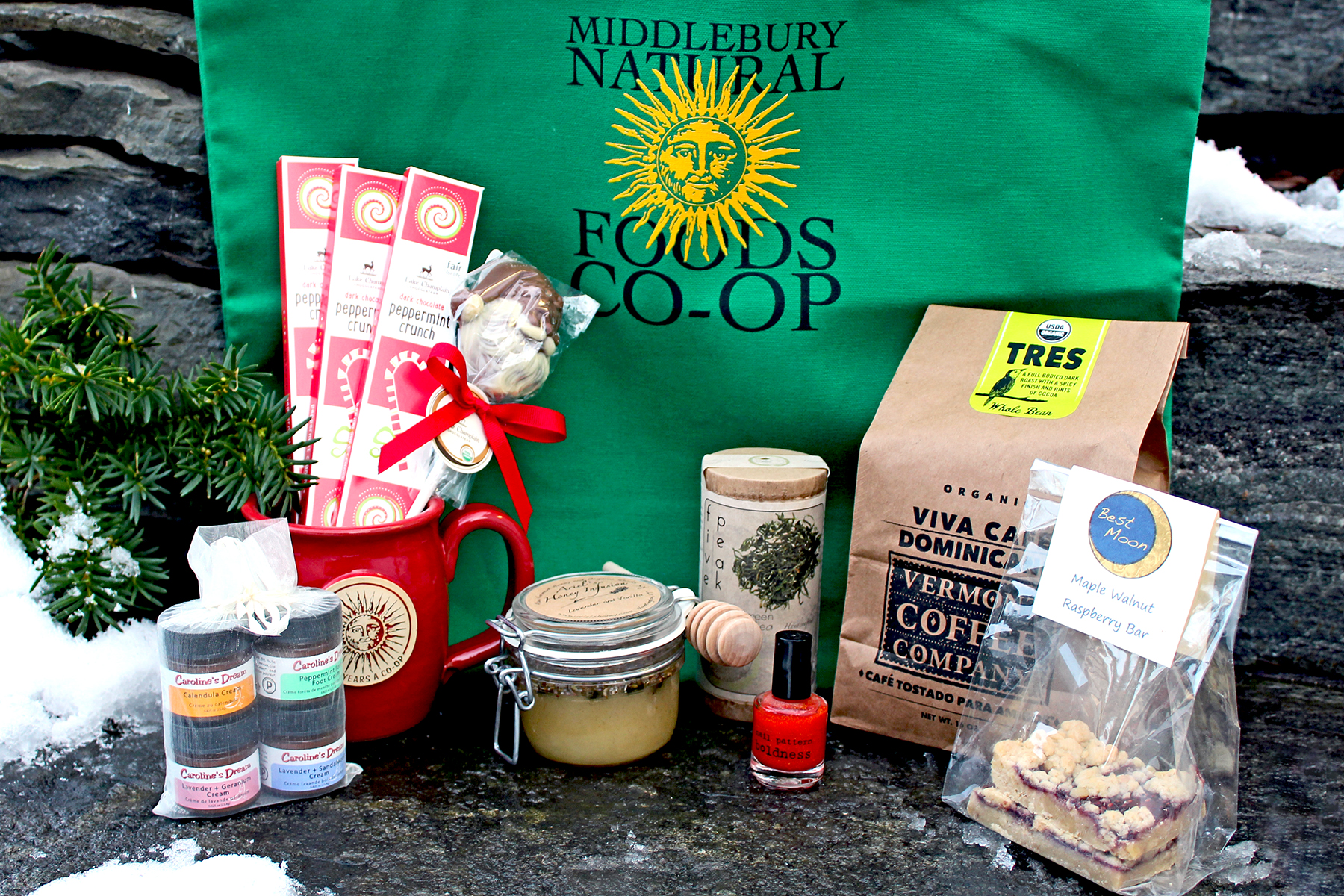 This basket was put together with your favorite co-workers in mind. It features a gift set of creams and salves from Caroline's Dream, a festive Co-op mug stuffed with Lake Champlain Chocolates, a pot of Elderberry-Infused Honey from Ariel's Honey Infusions, a canister of green tea from Love & Tea Co., a reusable Co-op tote, a bottle of sparkly nail polish from Nail Pattern Boldness, coffee from the Vermont Coffee Company, and a Maple Walnut Raspberry Bar from Best Moon Bakery.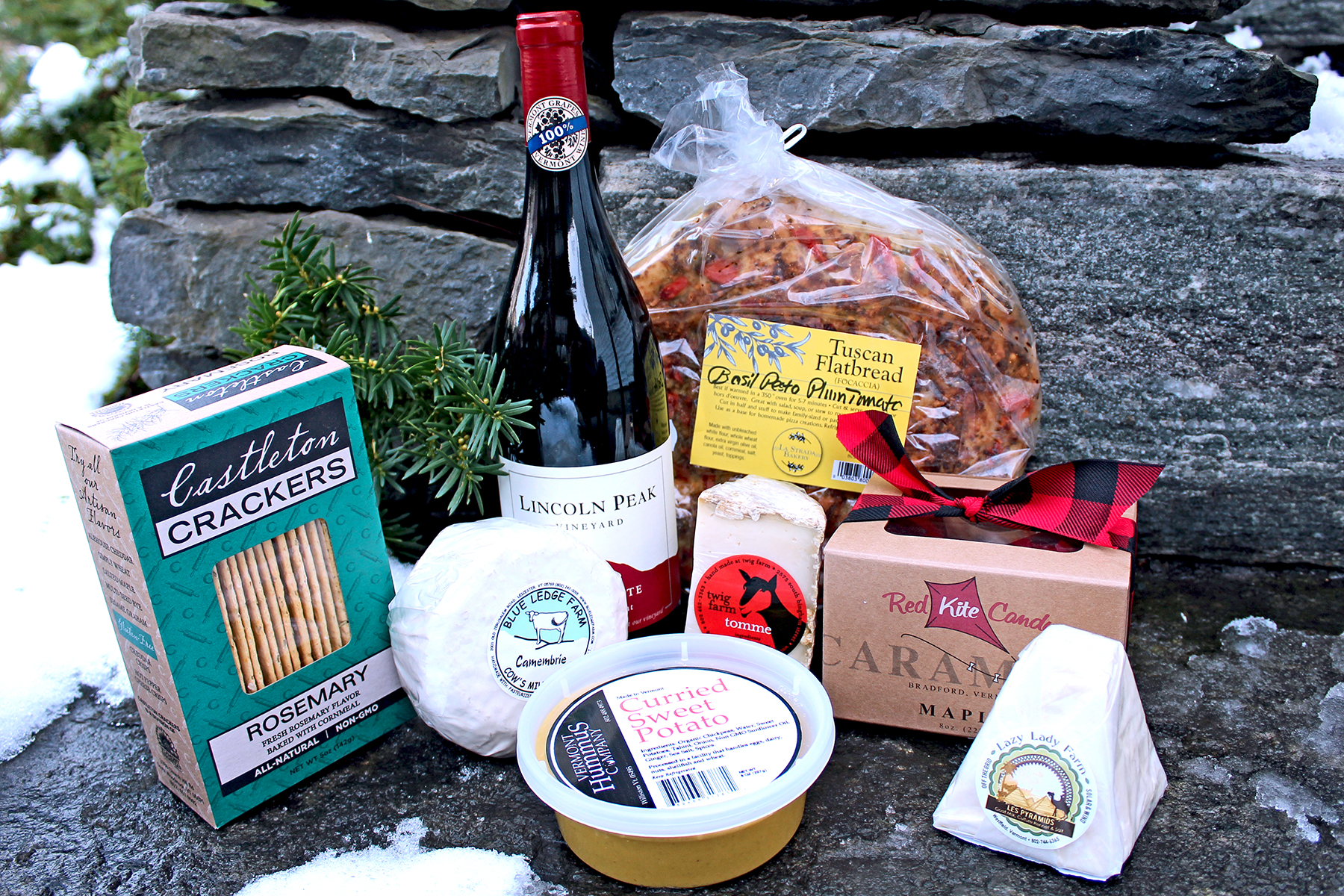 Do you have a friend who is always entertaining? This basket is perfect for the perpetual party host! It features Castleton Crackers, Blue Ledge Farm Camembrie, Curried Sweet Potato Hummus from the Vermont Hummus Company, a bottle of Lincoln Peak Marquette, Twig Farm Tomme, Tuscan Flatbread from La Strada Bakery, a gift box of caramels from Red Kite Candy, and Les Pyramids from Lazy Lady Farm.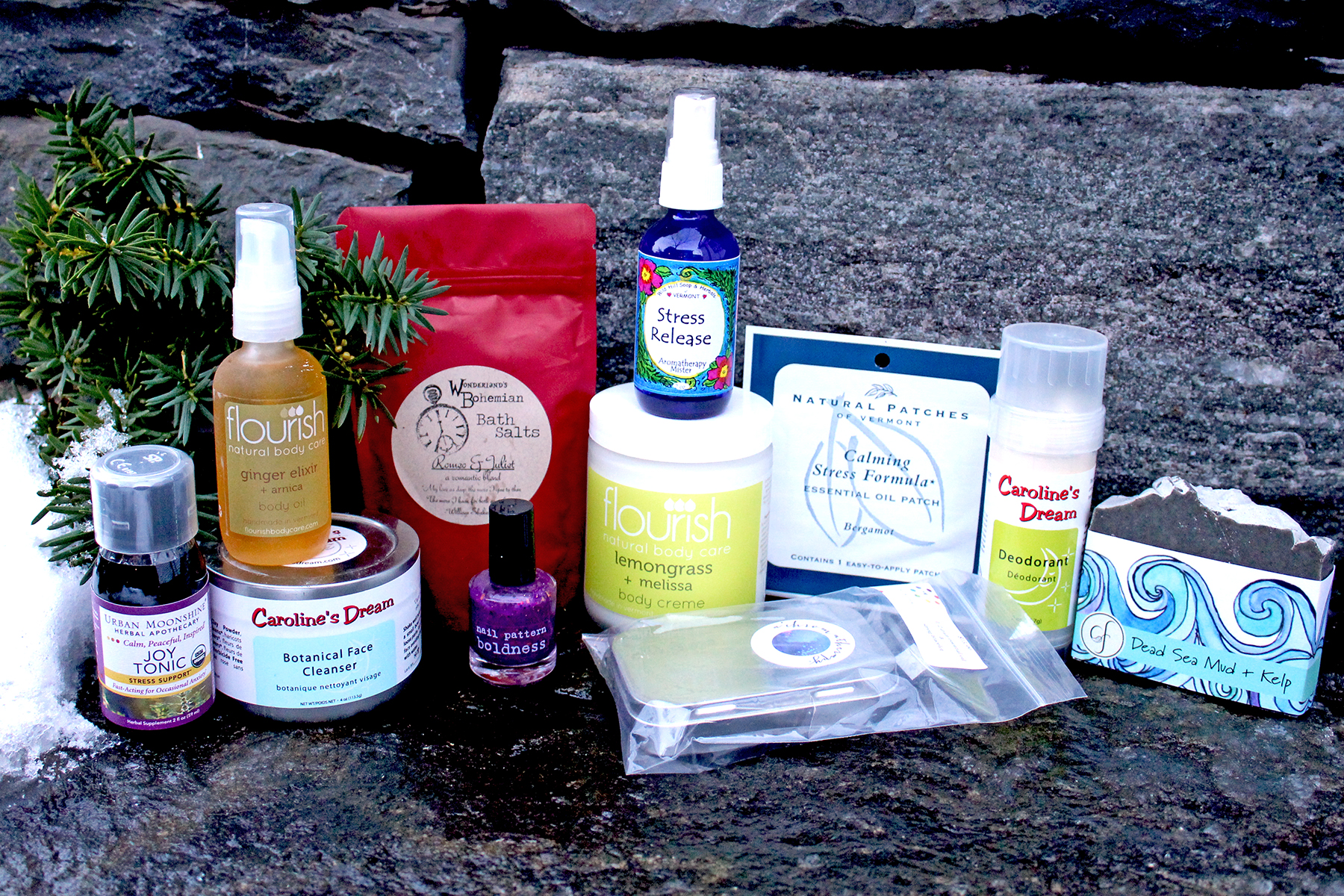 Do you have a friend who could use a DIY spa day at home? This basket is filled with local items to help your frazzled friend relax and de-stress. It features Urban Moonshine Joy Tonic, Flourish Ginger Arnica Massage Oil, Botanical Face Cleanser from Caroline's Dream, Bohemian Bath Salts from Wonderland Bohemian, a sparkly bottle of nail polish from Nail Pattern Boldness, Lemongrass & Melissa body cream from Flourish, an A'Chromatheraphy relaxation kit, a Calming Essential Oil Patch from Natural Patches of Vermont, Caroline's Dream deodorant, and a Dead Sea Mud & Kelp bar from Chasworth Farm Soap.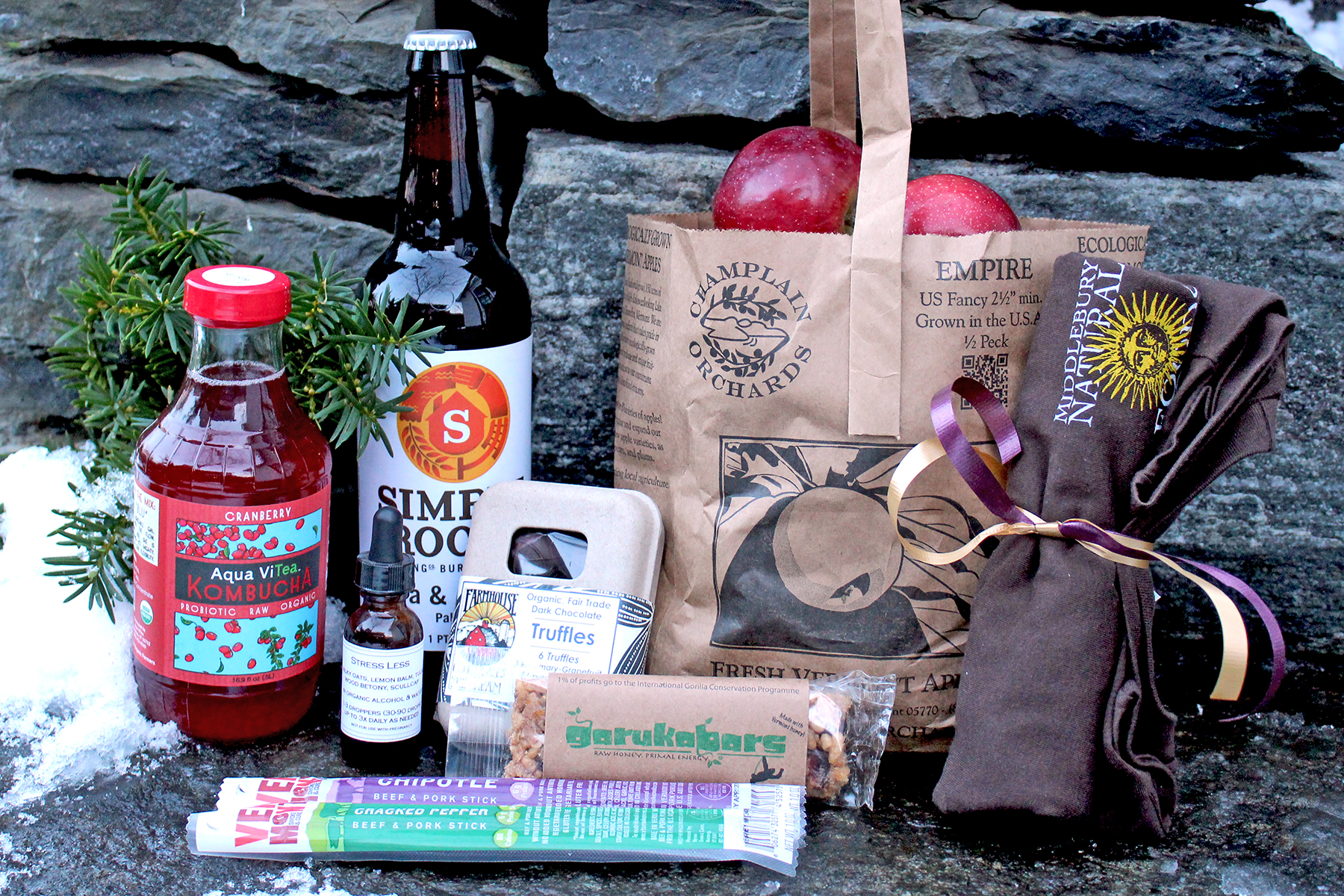 This gift basket is perfect for that college student on your list! It features a bottle of Aqua Vitea Cranberry Kombucha, a bottle of Stress Less from Sweetgrass Herbals, two Vermont Smoke & Cure meat sticks, a raw honey energy bar from Garuka Bars, a box of truffles from Farmhouse Chocolates & Ice Cream, a beer bomber from Simple Roots Brewing, a tote of Empire apples from Champlain Orchards, and a 40th Anniversary Edition organic cotton Co-op T-shirt.