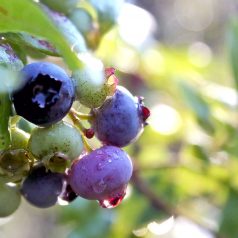 We're having a Spring Sale on NFCA Farm-to-freezer fruits and veggies! What makes these blueberries special? Read on to learn about a cool collaboration between area food co-ops and farmers working together to make year-round regional produce an option for Co-op shoppers: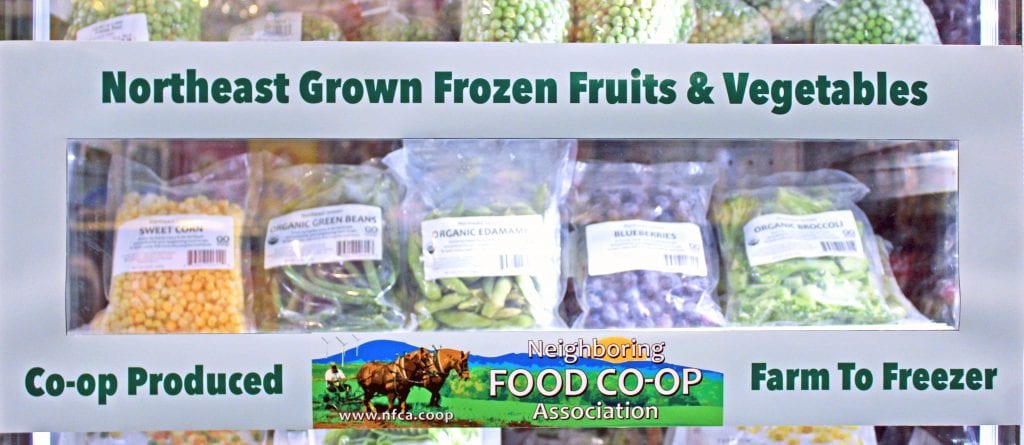 Being a year-round localvore is now a little easier thanks to a project bringing together food co-ops throughout the northeast to increase the availability of healthy, sustainably grown, regionally sourced fruits and vegetables for consumers beyond the traditional local harvest season. This also provides a boost for the farmers producing these crops by extending their marketing season beyond the typical (and brief) growing season in our region.
The project was spearheaded by the Neighboring Food Co-op Association (NFCA), which is a cooperative federation bringing together over 30 food co-ops and start-up initiatives throughout New England that are working together toward a shared vision of a thriving co-operative economy rooted in a healthy, just, and sustainable regional food system and a vibrant community of cooperative enterprise.
The NFCA's Farm to Freezer project began in 2011 while exploring opportunities for increasing regional food sourcing. They noticed that most of the frozen fruits and vegetables on co-op shelves were grown on large, industrial farms and processed by distant corporations.  In collaboration with local farmers, food cooperatives, and regional processors, they developed a pilot of frozen products grown, processed and packaged right here in the Northeast. Supported in part by two grants from the Eastern Corridor of National Co+op Grocers (NCG), the project enabled the NFCA to test consumer interest, processing infrastructure, and the availability of regional produce.
After two seasons, Farm to Freezer was put on hold as they worked with partners at the New England Farmers Union and Deep Root Organic Co-op to obtain a USDA Value-Added Producer Grant (VAPG) to explore options for future collaboration, processing, and distribution. Thanks to a new partnership with regional distributor Associated Buyers, they were able to make these products available again, exclusively through their member food co-ops.
Here's a little more info about the fruits and veggies available and the farmers who grow them:
Blueberries
The delicious highbush blueberries are grown by Greig Farm, a diversified fruit and vegetable farm in Red Hook, NY, in operation for over 60 years. Greig Farm practices Integrated Pest Management (IPM) to maintain healthy, productive blueberry bushes.
Organic Broccoli
Established in 1818, Hepworth Farms is a seventh-generation family farm in Milton, NY, in the Hudson Valley. Today, the farm includes 250 acres of NOFA-certified land yielding more than 400 varieties of organic vegetables.
Organic Edamame
The organically grown edamame comes from Markristo Farm in Hillsdale, NY. Farmers Martin and Christa Stosiek are committed to healthy food systems and sustainable agriculture. They are active board members of Berkshire Grown.
Organic Green Beans
Martin and Christa Stosiek started Markristo Farm in 1988 on the land where Martin was raised in Hillsdale, NY. Their farm has grown from just a couple of acres to over 20 acres, producing a diverse crop of vegetables, cut flowers, and bedding plants. They work to support the ideals of a local food system and enjoy connecting with those who purchase their products.
Sweet Corn
Our delicious, non-GMO sweet corn is grown by Altobelli Farm, a third generation farm in Columbia County, NY. John Altobelli has been farming on this land for over 30 years, using minimum tillage, drip irrigation, cover cropping, and no chemical fertilizers or pesticides.
We hope that you will try these products and support your local food co-ops as we work together to build a thriving co-operative economy, rooted in a healthy, just and sustainable food system in our region and beyond!