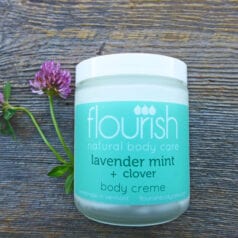 One of the beautiful, intangible things about supporting local products is the element of human connection. When you have questions about the products, you get to call and speak with an actual human who likely created the products, knows them intimately, and can skillfully answer all of your questions. The alternative often entails calling an 800 number, navigating your way through various electronic menus, listening to bad hold music, and, if you're lucky, reaching a customer service rep who may or may not be able to answer your questions. We experienced a fine example of this sort of thing recently when we noticed that one of our favorite natural body care product lines was sporting a beautiful new makeover. This prompted us to reach out to founder and creator of Flourish Natural Body Care, Kirsten Connor. She chatted with us from her studio in Woodstock, Vermont, and we got the scoop on the fresh new look, plus lots of other great info about her natural body care products: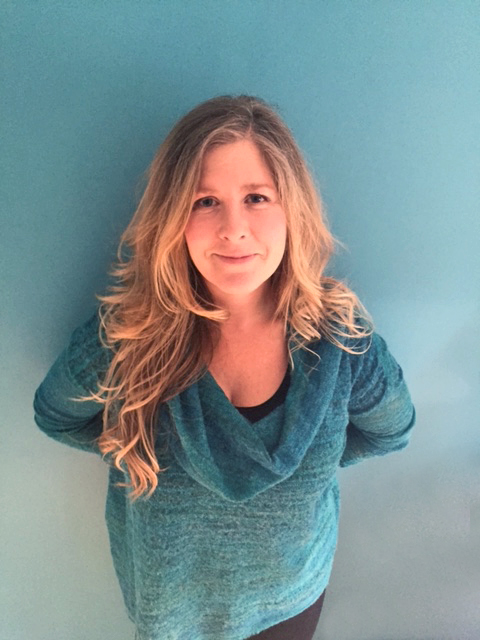 MNFC:  What inspired your venture into the world of natural body care products?
Kirsten:  I started out as a soap maker. I taught myself to make cold process soap and this whole world of scent and color just opened up for me. I was kind of fascinated by the fact that by using one of the most dangerous/caustic substances (lye) and combining it with the right ingredients it could be completely transformed into something wonderful for your skin. Once I had mastered soap, I added on scrubs and balms and then worked up to understanding lotions and cremes. Hair care was definitely the trickiest because being a "purist" I wanted to be able to make it from soap-but after literally hundreds of trials I had to accept that soap and my hair were not a happy combination. When I began to look more closely at cleansers in shampoos I began to understand that there are really good options that are very gentle and biodegradable. Similarly to the relationship between milled soap and cold process soap.
MNFC:  Your products have some new ingredients added. Can you tell us about this?
Kirsten:  As a formulator, I've always subscribed to the theory that "less is more". I've always tried to limit the number of ingredients in a recipe so that they would really have  a chance to shine. Like with our body cremes-the star is the cocoa butter so I really want you to be able to feel the silkiness of that when you are putting it on your skin. Since Vermont is such a agricultural state, people who were sampling our products would always ask me if I grow all the lavender, etc. that we use in our products, not realizing that lavender doesn't grow reliably well here in Vermont. Our really fun scent combinations have always been what makes our products stand out. One day, while planting in my garden, I read a description of angelica-and was startled because the description was exactly how I always described our Rosewood Infusion blend.  I began to think about other plants that would reflect the feeling that our different scents gave. I consulted with an herbalist and she and I worked together to choose the plants and find the best way to deliver them in the different products.
MNFC:  Your products have a new look! What prompted this packaging change?
Kirsten:  This was a big leap for us! After the flood in 2011, when we restarted Flourish, one of the things we were advised to do was to streamline our manufacturing/purchasing etc. and to use the same bottles for our shampoos, conditioners and lotions. Personally, I'm not a fan of plastic. I don't use it at home for storing our food, etc. When I was reformulating our recipes, the issue came up for me again. Not only did I want to protect the herbal infusions and essential oils that we were including, but I really wanted to limit participating in so much plastic consumption. Of course, glass containers should never be used in the shower but in every other instance, glass is a better choice. You wouldn't think of compromising your  beer or kombucha by storing it in a plastic bottle would you? Not to mention that during the manufacturing process, lotions and cremes are poured into their packaging while hot-so even if the plastic bottle or tube is BPA free, just the heat alone will cause some leaching. And then you are applying that to your skin?
MNFC:  What are your considerations when choosing ingredients for your products and how do you go about sourcing them?
Kirsten:  All of the herbal elements that we have added are either wildcrafted from our fields or we grow them in our gardens. Since we grow, harvest, preserve, etc. all of these plants we know that they are up to our standards. For everything else, we always choose organic oils and butters for our lotions and for our cleansers and preservatives we follow Ecocert guidelines when choosing ingredients. If you are not familiar, Ecocert is a European organization and the very first organization to develop standards for cosmetic manufacturing. With Ecocert there must be an absence of GMO's, parabens, I phenoxyethanol, nano particles, silicon, PEG, synthetic perfumes and dyes, and animal derived ingredients.  These standards close the loopholes that happen here in the US where a product can be certified organic but still contain a percentage of undesirable ingredients like phenoxyethanol.
MNFC:  What is your favorite product that you make? What scent?
Kirsten:  This truly does change with the seasons but overall I would say it is the GingerElixir+Arnica Body Oil. We have always been huge users of arnica for our entire family, but it is usually scented with menthol or peppermint-which I do not love. Having rheumatoid arthritis, I use arnica frequently and don't always want a heavy medicinal smell. So I created this oil, infused with arnica flowers for pain and inflammation relief but with a warm, spicybeautiful ginger scent. So it's more like a special treat.
MNFC:  What is your favorite thing about your job as a creator of natural body care products?
Kirsten:  Definitely when people who have tried our products tell me how much they love them!