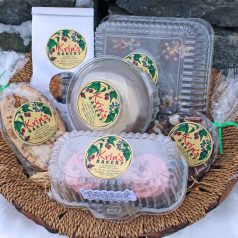 Looking to satisfy your holiday sweet tooth? We're shining our Member Deals Spotlight on Krin's Bakery this week and member-owners can enjoy 20% off Krin's full line of local confections from December 21st – 27th! Read on to learn more about this wonderful bakery nestled in the mountains of Huntington, VT.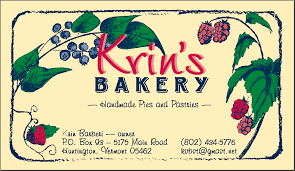 Krin's Bakery is the home of artisan baker Krin Barberi. After graduating from the Culinary Institute of America, then exploring and working for others, Krin opened her Bakery in 2005.
According to Krin, "We are a community of 7 Huntington women bringing diligence, humor, and really good taste buds to work every day. Our team is devoted to delicious baked goods made in small batches with deep attention to the baking process. We bring pride to our production process, using only "real" ingredients (butter instead of shortening, sugar instead of corn syrup). From ingredient choice to the mixing bowl, from oven to cooling rack, we bring that sense of pride from our kitchen to you."
Krin is a passionate local foods activist supporting the cause by working with local distributors, markets, producers, and farmers. She takes her inspiration from her rural New England family's tradition of supporting and participating in the life of her community. She believes that where our food comes from is important and takes pride in using local Vermont ingredients including carrots and zucchini from Full Moon Farm in Hinesburg, Bee Happy Honey from Starksboro, Huntington's own Maple Wind Farm eggs, and dairy from Middlebury's Monument Farms.
It is from this deep sense of community and place that Krin continues to bake love and care into each and every treat.
At the Co-op you'll find Krin's famous cupcakes, mini cakes, macaroons, and biscotti.