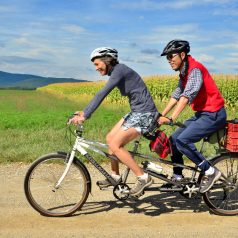 Vermont's Tour de Farms Bike Ride Returns August 6th
Pre-registration is now open for discounted entry
 BRISTOL, Vt. – ACORN's 10th annual Tour de Farms, one of Vermont's oldest cycling farm tours, will be held Sunday, August 6th in Bristol, Vt. This year's route will follow 28 miles of rolling hills and backcountry roads through the Champlain Valley's quintessential pastoral landscape.
The Tour will start at 8:30 a.m. and end at 4:00 p.m. at the Rec Club Field, next to Mt. Abraham High School in Bristol, which is 30 miles south of Burlington. The route will feature nine farm stops and 30 farms, food producers and restaurants collaborating to provide riders with fresh samples of the summer bounty from the Champlain Valley. 
A Farm Van will enable riders to purchase products directly from the farms without having to worry about how they'll get them back to their car. The ride will conclude with a celebratory After-Party featuring live music and dancing, local ice cream, foods and beverages.
 "The Tour is one of Vermont's most unique and loved local food and farm experiences," said Jonathan Corcoran, ACORN's Executive Director and Tour co-founder. "What makes the Tour special is riding a bike and taking in the beauty around you, while stopping at farms along the way to sample a wonderful variety of locally-grown foods and beverages and meeting the real people who produce them."
The 2017 Tour runs through the towns of Bristol, New Haven and Monkton and will showcase the wonderful diversity of farms and local foods in this lesser known part of the Champlain Valley. The terrain is hilly with a mix of paved and dirt roads so a mountain bike or road bike with wide tires is recommended. More details can be found at www.acornvt.org/tourdefarms 
The Tour de Farms is a rain or shine event and will be capped at 400 riders. Advance registration is now open at https://www.bikereg.com/tourdefarms and will close on July 28th at 5:00 p.m. The advance registration fee is $50 for adults and $25 for students and kids under 18. The on-site registration fee the day of the event is $75 for adults and $50 for students and kids.
The 2017 Tour is sponsored by Earl's Cyclery and Fitness, AARP Vermont, All Times Sparkling Cider, City Market, Community Bank NA, IPJ Real Estate, Langrock, Sperry & Wool, and Skinny Pancake. Earl's Cyclery will provide two mechanical support vans for cyclists.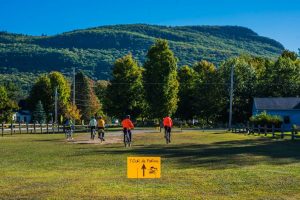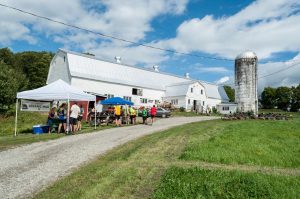 ACORN (Addison County Relocalization Network) is a 501(c)(3) non-profit community organization based in Middlebury, Vt. Its mission is to promote the growth and health of local food and agriculture in Vermont's Champlain Valley. ACORN is working with growers, schools, businesses and community and statewide partners to double the consumption of locally-grown food by 2020. For more information, go to http://www.acornvt.org .
TOUR DE FARMS: To date, over 3,500 people have ridden the Tour. The Tour is ACORN's top fundraiser of the year, and 25 percent of the proceeds from advanced registration go to participating farms on the Tour. The 2016 Tour was recently featured on Vermont PBS: http://www.vermontpbs.org/clip/4299.