Buddha Bowl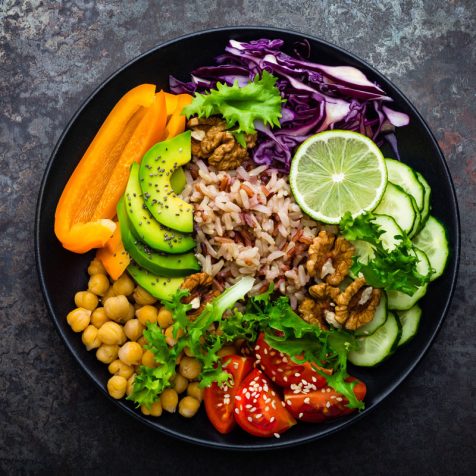 Description
Looking to whip up a delicious, nutritious one-bowl meal? We think you'll love this one comprised of fluffy rice topped with crispy chickpeas, vegetables, and the most delicious spicy and sweet dressing! You'll find many of the ingredients featured in our Weekly Sale from April 20th – 26th, making this dish easy on the budget, too! It's also helpful to note the versatility of this recipe. It is the perfect vehicle for any veggies you happen to have on hand, so consider those listed as suggestions, and feel free to get creative!
Instructions
Preheat oven to 350F. Coat sweet potato in 1 tsp oil and season with 1 tsp salt. Place on a baking tray and pop into the oven to roast for 35 minutes, turning once halfway through the cooking time.
Meanwhile, in a bowl, combine drained chickpeas, 1 1/2 T sriracha, 1 tsp maple syrup, paprika, garlic powder, and 1 tsp salt. Mix to combine. Heat a saucepan and transfer chickpea mixture into saucepan to cook for 5-10 minutes. Make sure to keep the chickpeas moving so they don't burn. Cook until chickpeas are slightly sticky and no longer watery. Keep aside.
In a clean saucepan, wilt the cabbage and lightly season. Once sweet potato is cooked through, prepare your Buddha bowl by placing your rice in the bottom of a bowl and then topping with sweet potato, chickpeas, red cabbage, diced sweet peppers, and avocado.
To make dressing, whisk together nut butter with 1/2 C warm water, 1 tsp maple syrup, cayenne, turmeric, the remaining 1/2 tsp sriracha, and the remaining tsp salt. Drizzle over the Buddha bowl. Garnish with nuts, herbs, and/or a twist of lime.