Turkey Breast Roulade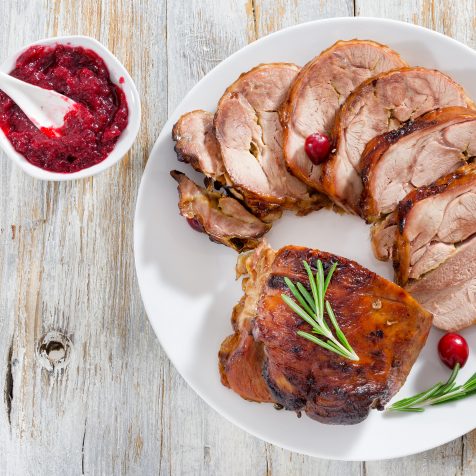 Description
Smaller gatherings are the thing this holiday season and that means embracing new traditions, including alternatives to the whole roasted turkey. We think that this Turkey Breast Roulade would make a lovely substitution and you need not be a kitchen pro to pull it off. With a turkey breast, some kitchen twine, and a few simple ingredients you'll be welcoming a new centerpiece to your holiday table that the whole family will love!
Instructions
Heat the oven to 350 degrees.
Heat 2 tablespoons olive oil in a medium (10-inch) skillet over medium heat. Add the onion and fennel seeds and cook for 6 to 8 minutes, tossing occasionally, until the onion is tender. Add the garlic and cook for 1 minute. Off the heat, stir in the chopped sage and the rosemary; set aside to cool.
Set the turkey breast on a cutting board and open it up, skin side down. If necessary, pound the turkey to an even thickness of about 1 inch. Sprinkle the turkey with 4 teaspoons salt and 1 1/2 teaspoons pepper. Once the onion mixture has cooled, spread it evenly on the meat. Grate the butter and sprinkle it on top. Arrange the prosciutto on top to totally cover the filling and meat.
Starting at one long end of the turkey breast, roll the meat up jelly-roll style to make a compact cylindrical roulade, ending with the seam side down. Tie the roulade tightly with kitchen twine at 2 to 2 1/2-inch intervals to ensure that it will roast evenly. Slip the whole sage leaves under the twine down the center of the roulade.
Place the roulade, seam side down, in a roasting pan and pat the skin dry with paper towels. Brush the skin with the remaining 2 tablespoons olive oil and sprinkle with 1 teaspoon salt and 1/2 teaspoon pepper. Pour the wine and 1 cup water into the roasting pan, surrounding the turkey with the liquids without pouring them directly over the roulade. Roast for 1 1/4 to 1 1/2 hours, until the skin is golden brown and the internal temperature is 150 degrees.
Remove from the oven, cover the turkey with foil, and allow to rest for 15 minutes. Remove the string, slice the roulade crosswise in 1/2-inch-thick slices, and serve warm with the pan juices.