Shrimp and Okra Gumbo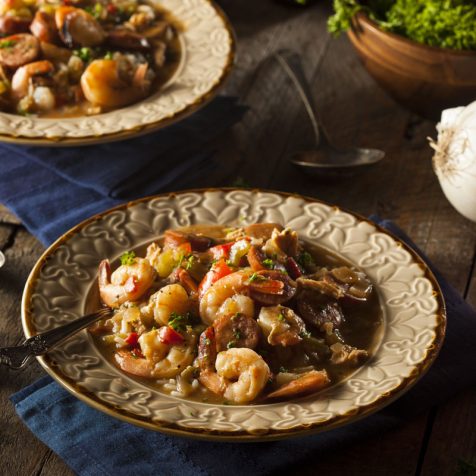 Description
With a heritage claiming both French and West African roots, gumbo is a thick stew served over rice and made with a roux (a mixture of butter and flour) and/or gumbo file powder (made from ground dried sassafras leaves), along with a wide variety of ingredients such as celery, peppers, okra, onions chicken, sausage and/or seafood. With so many options, every family has perfected its own treasured recipes, which leads to an impassioned debate on which one is best. Even so, gumbo does more to bring us together than divide us, as queen of Creole cuisine Chef Leah Chase said, "There've been a lot of problems solved in that dining room over a bowl of gumbo." Our weekly sale from December 29th – January 4th celebrates the culinary traditions of Kwanzaa (which spans from Dec. 26 to Jan. 1, and New Year's Eve/New Year's Day celebrations. You'll find Henry & Lisa's shrimp, organic Bionaturae tomatoes, and bulk long-grain white rice featured in the sale, so it's a perfect time to whip up a batch of this authentic shrimp and okra gumbo from the award-winning Gumbo Shop in New Orleans, Louisiana!
Instructions
Peel and de-vein the shrimp, and set aside, covered in the refrigerator. Rinse the shrimp shells, place in a non-reactive stock pot along with 3 quarts of water. Bring to a boil, reduce heat and simmer for 30 – 45 minutes to make a stock. Strain, discard the shells, and set the stock aside.
In a heavy-bottomed skillet, heat 2 tablespoons of oil, add the okra, and saute over medium-high heat for about 10 – 15 minutes or until all the "ropiness" is gone. Set aside.
Place the 2/3 cup fat/oil in a large (8 quart) heavy-bottomed non-reactive Dutch oven-type pot. Add the flour and, over medium-high heat, make a dark roux by continuously stirring the mixture, first with a whisk, then with a wooden spoon, allowing it to toast but not burn until it reaches a deep reddish-brown color (this can take up to 45 minutes). As soon as the proper color is achieved, add the onions, bell pepper, celery, and garlic and saute, stirring occasionally until tender. During this process, allow the vegetables to stick to the bottom of the pan a bit, then scrape the bottom with a metal spoon or spatula. This allows some of the natural sugars in the onions to caramelize, rendering great depth of flavor.
When the seasoning vegetables are tender add the tomatoes, bay leaves and the three peppers, and a little salt. Cook for about 10 minutes, repeating the stick-and-scrape process with the tomatoes. Add the sauteed okra and cook for 10 more minutes.
Add the shrimp stock to the pot. Stirring constantly, bring the pot to a boil. Lower the heat a bit, partially cover, and simmer for thirty minutes, stirring occasionally. If the gumbo appears too thick, add more liquid to adjust. Add salt to taste and adjust the pepper if desired. Add the peeled shrimp, return to a boil and simmer until the shrimp are firm and pink, about 5 minutes. Remove the pot from heat.
As is the case with most gumbos, this dish is best prepared either early in the day it is to be served, or even the day before, thereby allowing time for the flavors to marry. When reheating, stir often and be careful to avoid overcooking the shrimp.
Serve in large bowls over steamed rice