Kimchijeon (Kimchi Pancake)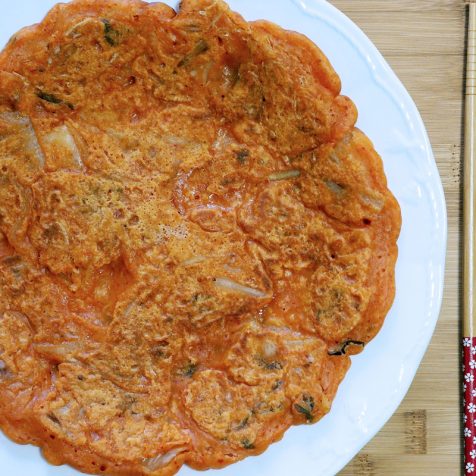 Description
According to Chef and food writer Samin Nosrat, who adapted this recipe, Young S. Kim's golden kimchijeon are a revelation. Tart with pungent kimchi, the pancakes are both satisfyingly chewy and shatteringly crisp. Nosrat suggests serving it to a crowd as an appetizer or enjoying it on its own as a filling meal. You'll find local Sunja's kimchi featured in our weekly sale from April 22nd – 29th, so it's a great time to experience this Korean comfort food!
Instructions
In a large bowl, whisk together potato starch, flour, garlic powder, baking powder, and salt. Set aside.
Dice kimchi into 1/2-inch pieces. In a medium bowl, stir together kimchi and brine, scallions, gochujang, sugar, fish sauce, and 1/2 cup water. Add kimchi mixture to flour mixture, and stir to combine.
Set a 10-inch cast-iron pan over medium heat. When it's hot, add 1 1/2 tablespoons oil. When oil shimmers, add half the batter and spread from the center out to the edges of the pan. After about 1 minute, once you sense the pancake is setting, use a thin metal spatula to make sure the pancake is not sticking. When the bottom of the pancake is brown and the top fades from glossy to matte, after another 30 to 60 seconds, carefully flip the pancake using the metal spatula. (Alternatively, slide the pancake onto a rimless plate, and flip it back into the pan.) Continue cooking for another 60 to 90 seconds on the second side until set, then carefully slide the pancake onto a plate. Repeat with remaining oil and batter for a second pancake.
Combine ponzu, toasted sesame seeds, and scallion to make a dipping sauce. Serve the pancakes hot with a side of the dipping sauce.