Ham & Cheese Breakfast Casserole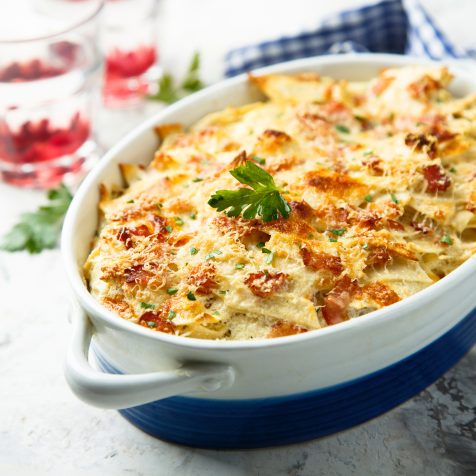 Description
Are you searching for a fabulous casserole recipe to anchor your Mother's Day brunch menu? We think you'll love this one! It comes from one of our favorite go-to sources for recipes, thekitchn.com, and it is one of their most popular recipes ever posted. The author describes it as "…rich, eggy, and unbelievably, incredibly delicious. This is one to memorize, folks, and to pull out for in-laws and overnight guests. It may just be the very best brunch casserole I've ever made." Its make-ahead nature adds to the appeal – you're not up at the crack of dawn on brunch day and you get to enjoy the company of your brunch guests instead of slaving away in the kitchen. We think you'll also love the layered presentation. It's as pleasing to the eye as it is to the palate. Enjoy!
Instructions
Grease an 8-inch square baking dish (or another 1 1/2-quart to 2-quart baking dish) and spread the cubed bread in the bottom. Heat 1 tablespoon of the oil in a medium skillet over medium heat until shimmering. Add the onions, 1/4 teaspoon of the salt, and sugar. Cook, stirring occasionally until lightly caramelized (a medium golden-brown color), about 15 minutes. Meanwhile, in another heavy skillet, heat the remaining 1 tablespoon oil over medium heat and sauté the pancetta until the fat is almost all rendered and it begins to get crisp, about 8 to 10 minutes. Transfer to a paper towel-lined plate to drain.
Whisk the eggs, milk, dry mustard, nutmeg, thyme, remaining 1/2 teaspoon salt, and pepper together in a large bowl. Spread the pancetta over the bread cubes, then layer the onions on top. Sprinkle grated Gruyère on next, and then pour the egg mixture over the entire thing. Press down on the top gently, so that all of the bread cubes get soaked a bit with the egg mixture. Cover and refrigerate overnight.
Arrange a rack in the middle of the oven and heat to 350°F. Take the casserole out of the refrigerator so it can come to room temperature on the counter while the oven preheats. Bake, uncovered until the edges are bubbling and the top begins to brown, 35 to 50 minutes. The baking time will be greatly dependent on the depth of dish you use. Check the interior with a knife; if it comes out clean the bread custard is baked through. (Cover with aluminum foil near the end of cooking if the top is already browned.)