Dumpling Wrappers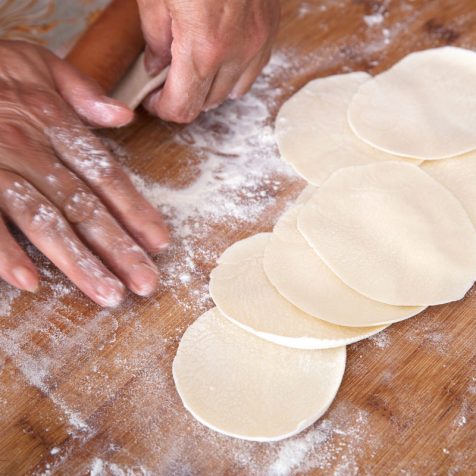 Description
Making your own dumpling wrappers at home might sound intimidating, but there's really nothing to it! With just flour, water, and a few simple steps, you'll be rolling out wrappers like a pro! Our Weekly Sale from January 19th – 25th celebrates the culinary traditions of the Lunar New Year, celebrated on Sunday, January 22nd this year. Lunar New Year, Chinese Chunjie, Korean Seollal, Tibetan Losar, and Spring Festival all describe the celebration that begins with the first new moon of the lunar calendar and ends on the first full moon, 15 days later. The Lunar New Year festival is thousands of years old, and today nearly 25% of the world's population participates in this celebration. Pork dumplings, or jiaozi, are the quintessential dish of Lunar New Year celebrations and you'll find many of the items needed to make a batch featured in the Weekly Sale, making it a perfect time to give this dish a try! You'll find the pork dumpling recipe at our Weekly Sale display or on our blog and this dumpling wrapper recipe will help you craft the perfect vehicle for your dumplings!
Instructions
Add water to the flour gradually. Gently mix with a pair of chopsticks/spatula until no more loose flour can be seen. Then combine and knead with your hands. Leave to rest covered for 10-15 minutes then knead it into a smooth dough.
Cover and rest the dough again for 30-60 minutes until it becomes soft (Chinese cooks would say "as soft as an earlobe").
Make a loop with the dough then divide it into four parts. Roll one part (cover the rest to prevent them from drying out) into a rope then cut into 7-8 equal sections.
Press each piece into a small disc with the palm of your hand. Then use a rolling pin to flatten it into a thin disc. Dust with flour if the dough sticks.
Use the fresh wrappers immediately. If you wish to freeze them for later, sprinkle extra flour in between each wrapper. Pile them up then place into an air-tight plastic bag (squeeze out the air as much as possible). Defrost in the fridge then use them straightaway.
This video will help give you a visual on the technique: