Beet Cupcakes with Zombie Brain Frosting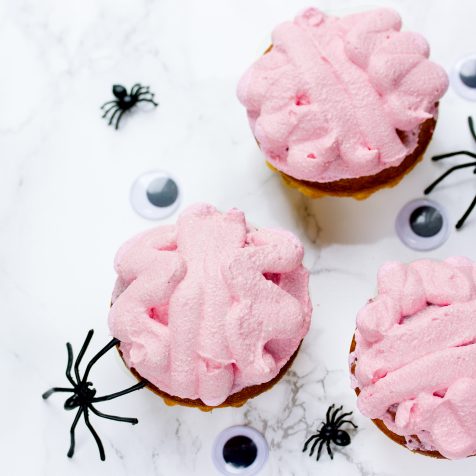 Description
This spooky Halloween cupcake recipe features blood-red cupcakes and a brainy frosting that is all-natural … no, they do not contain real BRAINS, but they are made with real ingredients and contain no artificial food coloring! So, what is the secret to getting cake batter and icing in these delightful shades? Fresh beet puree! Beets are a beautiful shade of red and add both delicious flavor and color to this fun recipe.
Instructions
Wash and boil three small to medium beets until tender. Remove skins and puree until smooth. (Add a tablespoon or two of the water you boiled the beets in if necessary to puree.) Preheat oven to 350 degrees F. Line mini muffin tin with cupcake papers. In a large bowl, mix together sugar, beet puree, egg, and vanilla. Stir the dry ingredients into the wet mixture and mix until completely combined. Scoop two teaspoons of batter into each cupcake paper.
Bake for 10 to 12 minutes, or until a toothpick inserted into the center of a cupcake comes out clean. Remove from the oven and allow to cool completely.
While cupcakes are cooling, prepare the frosting by creaming together cream cheese, butter and vanilla until no lumps remain. Scrape down sides of bowl and add 1 tsp beet puree. Mix until uniform in color. Stir in powdered sugar one cup at a time until you have a stiff icing. Once cupcakes are completely cooled, apply the frosting as pictured to achieve the brain-like effect.