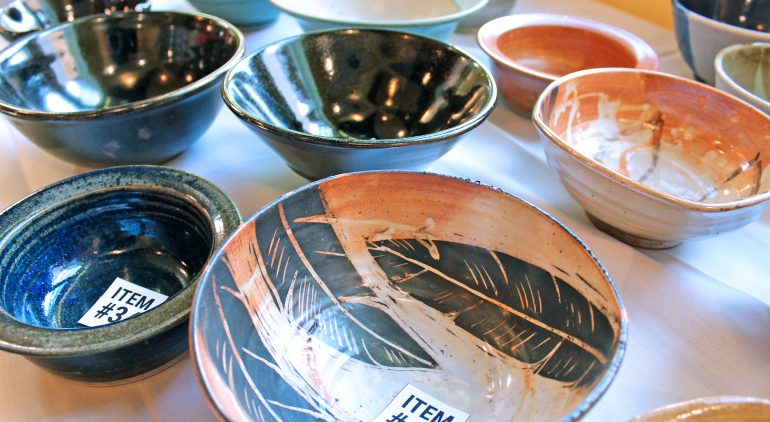 Middlebury Natural Foods Co-op Indoor Seating Area
1 Washington Street
For 29 years, the Co-op has had the pleasure of collaborating with Middlebury Studio School (formerly, Frog Hollow) to help us bring you our annual Empty Bowl dinner to benefit local food shelves, CVOEO, and HOPE, and our first-ever Empty Bowl Silent Auction last year. The Studio School has been instrumental in coordinating dozens of local potters to create 100 bowls for this event, each year. In 2021, the challenges of COVID 19 remain, and we feel that it would be irresponsible to host our traditional community dinner under these circumstances.
For the second year, the Co-op is hosting The Great Empty Bowl Silent Auction. From 11/15 to 12/15, stop by the Co-op's "indoor seating area" to view beautiful hand-made bowls from Middlebury Studio School. When you find one that's meant for you or someone you love, please write your bid, your name, and your phone number on our auction list, next to the bowl of your choice. A photograph of each bowl, with a corresponding number, will be included on the list. Bids start at $30 (the usual cost of an Empty Bowl Dinner ticket). The Co-op will match all final bids (maximum total match will be $5,000). Once the auction is over on 12/15, we'll contact all participants with top bids to arrange for payment and pick-up.
Here's How to Participate:
– Take a look at these beautiful bowls, handmade and donated by the generous artists at Middlebury Studio School.
– When you find one (or more!) that you like, match the number on the bowl to the number on the Auction List (center table). Fill in your name, phone number, and your bid (bidding starts at $30 and must increase by at least $5 for each additional bid).
– The auction ends on 12/15. After that date, if you have placed the highest bid on a bowl, we will contact you to let you know, so you can stop by to pay for and pick up your bowl.
The Co-op Will Match The Highest Bids for Every Bowl (maximum total match will be $5,000)
"Empty Bowls" is an international project to fight hunger, personalized by artists and arts organizations on a community level. It was founded by Lisa Blackburn and Art teacher John Hartom in 1990-91 when they joined a drive to raise charitable funds in his Michigan community. Hartom's idea was to organize a charitable event to give artists and art students a way to make a personal difference. Hartom's students made ceramic bowls in their high school art classes. The finished products were then used as individual serving pieces for a fund-raising meal of soup and bread. Contributing guests kept the empty bowl.
Today, hundreds of communities hold some version of an Empty Bowls event. Their efforts support food-related charities around the world and have raised millions of dollars to aid in the fight against hunger. Although the sponsors of the events may differ widely – from glass blowers to churches to Co-ops like ours, their goals remain the same:
Raise as much money as possible to feed the world's hungry people.
Increase awareness of hunger and related issues. Through education, awareness, and action, concerned individuals can change human attitudes that allow hunger to exist.
Advocate for arts education. Nurturing the creative process through the arts enhances the possibility of finding new solutions to old problems.
According to the U.S. Census, Current Population Survey, 1 in 9 Vermonters are dealing with food insecurity. This is a number well below the national average, but for 12% of our State's population, the number is still too high. Please place a bid at our Empty Bowl Auction and be a part of the effort to wipe out hunger in Addison County.