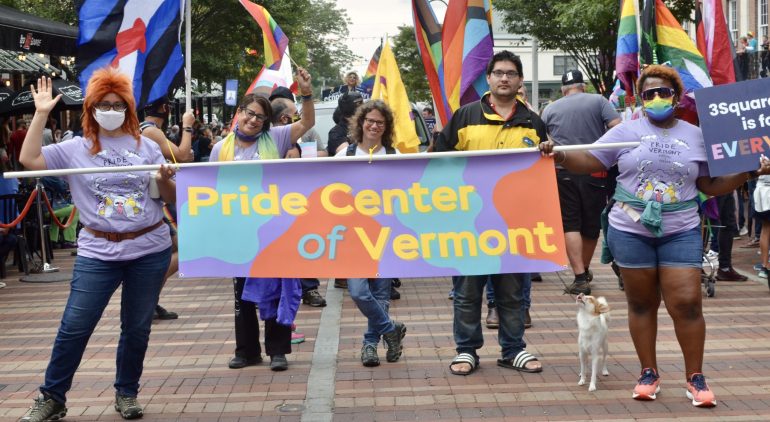 Middlebury Food Co-op
9 Washington St., Middlebury, VT 05753
Round Up Your Totals at the Registers June 1-7 for Pride Center of Vermont…
…The Co-op Will Match Your Donation!
We are so excited to Rally for this local organization that is committed to building a community where all are welcome. If you are not familiar with Pride Center of Vermont, please read on to learn more from them, in their own words:

Pride Center of Vermont is the region's most comprehensive community center, dedicated to advancing community and the health and safety of LGBTQIA+ Vermonters. Now is a critical time for LGBTQIA+ community centers. We are the first line of defense against a political climate actively working to take away our rights, erase our identities, and defund the resources that support us. In these turbulent times, community and connection are a lifeline for many across the state and country. We are proud to offer a wide range of services and support, including:
Health & Wellness programs helping LGBTQIA+ adults access HIV and STI testing and support, health insurance, affirming providers, sexuality and gender education and supplies, and social groups.
Affinity groups connecting individuals based on shared identities, to build power and share experiences, including THRIVE for Queer & Trans People of Color, GLOW for LGBTQIA+ Women and women-aligned individuals, Momentum for LGBTQIA+ Vermonters over the age of 55, and our Trans Program.
SafeSpace Anti-Violence Program which works to transform harm with and for LGBTQIA+ Vermonters, through direct service advocacy, education, and community support.
An online events calendar highlighting LGBTQIA+ events, hosted by Pride Center as well as other groups, organizations, and individuals, so that Vermonters can find community and build connections statewide.
Vermont's largest Pride Parade & Festival every September. Pride brings together individuals, families, organizations, and businesses from around New England for a week-long celebration of LGBTQIA+ identities, culminating in a parade through downtown Burlington and a waterfront festival featuring artists, performers, musicians, vendors, and more.
Pride Center of Vermont provides the space and opportunity for LGBTQ+ people to celebrate our identities, and come together in solidarity, safety, and joy. The goal of the Pride Center of Vermont is to enrich the lives of each and every LGBTQ+ Vermonter so that we can all unapologetically exist. We are so grateful for the opportunity to participate in Middlebury Co-op's Rally for Change, and thankful for your round-up donations to help us continue and expand our increasingly vital work. Thank you, and see you at Pride!