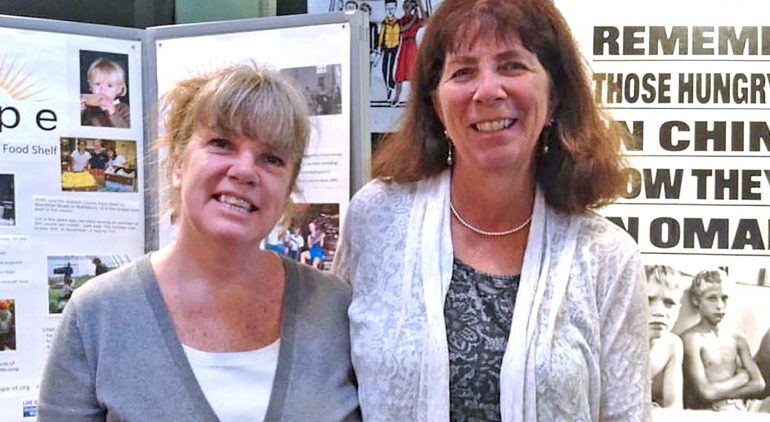 Middlebury Food Co-op
9 Washington St., Middlebury, VT 05753
Our Annual Rally for Change for local food shelves, CVOEO and HOPE, starts on November 2nd!  Just round up your total (or feel free to give more!) at the registers between 11/2 and 11/8 and the Co-op will match your donation!  What an easy way to do good this holiday season!
Hunger is not just an issue on the other side of the world.  Food insecurity is right at home in Vermont, and no one works on the front lines to combat this in Addison County like our two local food shelves – CVOEO and HOPE.    These two organizations spend a lot of their resources trying to get food to hungry Vermonters, but that's not the whole story.  Want to know more?  Read on, to hear about them, in their own words:

From Jan Demers, Executive Director:
We had moved to another state so that my husband could work on his Master's Degree.   He was making $35 a week. Housing came with a job he had taken while at Boston University and we were paying our bills.   How I don't know.    What I do know is how to make a chicken last a week for a family of four.   First, you roast it.   The next day you make a casserole from what is left.  After that, the bones are boiled for a good long time and you make soup.  Those we serve have the same challenges.   How can we keep hunger at bay and food on the table?
1 in 5 children and youth in Addison County know hunger.   Over 3,500 Addison County residents participate in the 3Squares VT program.  There are 26 summer meal sites in Addison County.  10 senior meal sites serve our older citizens several times a week all summer long.
In the time period of July 1, 2016, and June 30, 2017,  CVOEO's Food Shelf in Middlebury served 1,964 households with 3,711 individuals in multiple visits: 357 of this number were under the age of 18,  357 were seniors and 1,133 of that number are people with disabilities. Individuals and families come from towns throughout Addison County.
Donna Rose is the Food Shelf Coordinator.  The Food Shelf is located at 54 Creek Road in Middlebury.   CVOEO is a nonprofit corporation formed in 1965 to carry out the Economic Opportunity Act of 1964 in the Vermont Counties of Addison, Chittenden, Franklin and Grand Isle.  CVOEO is one of five Community Action Agencies in the state of Vermont.  Its mission is to address fundamental issues of economic, social and racial justice and works with people to achieve economic independence.  Its vision is to bridge gaps and build futures.  For more information, go to  https://www.cvoeo.org/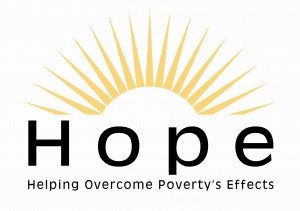 For more than 50 years, HOPE has been providing vital assistance to low income people in Addison County.  Our mission is to improve the lives of people in Addison County, Vermont by working with individuals to identify and secure the tools and resources needed to meet their basic needs.  HOPE is a community-based, private, non-profit organization that provides a wide array of services to more than 3,000 low income people each year.  Rather than working from a static list of services, we ask those who come to us: "What do you need?" Then, we work with them and other local organizations to find solutions that target our community's limited resources most effectively to meet a person's needs.
HOPE works with low income and homeless people to provide assistance with food, clothing, housing, employment needs, medical needs, and much more.  HOPE's charity resale store provides free or low cost items to people who cannot afford them.  It also generates revenue to support HOPE's poverty relief work; everyone is welcome shop at the store, and to donate items for resale.
HOPE operates the largest food shelf in the county.  In 2016, our food shelf provided food for over 67,000 meals and served more than 2,000 individuals, nearly one third of which were children.  It is important to note that we report unduplicated numbers; in other words, these 2,000 individuals come to HOPE's food shelf more than once a year and many come every month.
Despite the high level of usage that our food shelf sees, there are still many in our community who are hungry and who cannot afford to feed themselves and their families adequately.  We believe that with the amount of locally grown and produced food in our county, no one should be going hungry.  Through our Local Food Access Program, HOPE collaborates with local growers and producers to rescue surplus farm food and make it available to low income food insecure people in our community.
Lily Bradburn, HOPE's Local Food Access Coordinator, spearheads activities including gleaning (salvaging usable produce not harvested), farm pickups, and food processing.  Last year, HOPE received over 40,500 pounds of fresh, locally grown food from 29 farms which we distributed at our own food shelf and also shared with 15 charitable food sites including child care centers, other food shelves, the Addison County Summer Meals Program, and others.  Using local produce, HOPE worked with volunteers to prepare and freeze 449 quarts of hearty soup for our food shelf.  We also processed 752 pounds of this food for the freezer and distributed it during the winter months.  In addition, HOPE offers cooking classes and demonstrations so that more people can learn how to prepare quick, healthy and economical meals from fresh produce.
We appreciate our community's support of our poverty relief efforts and invite those who are interested to take a tour of HOPE or volunteer with us.  Please contact us at (802) 388-3608 for information.  We are located at 282 Boardman Street in Middlebury and welcome donations to our food shelf Mondays through Fridays from 8:30 am – 4:30 pm.  For more information, please go to http://www.hope-vt.org/