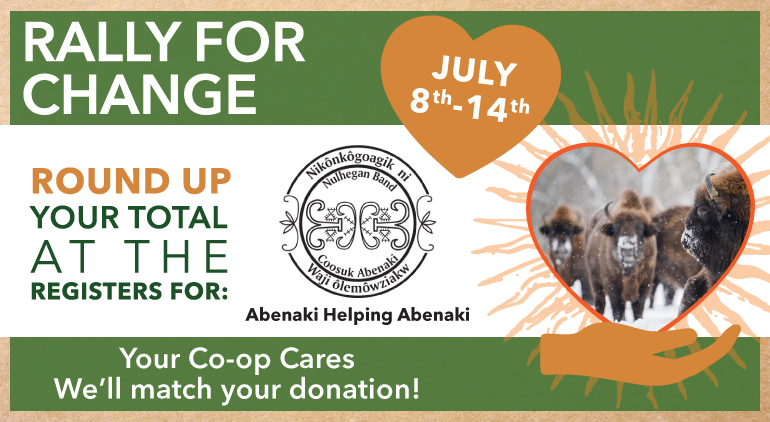 Middlebury Natural Foods Co-op
9 Washington St., Middlebury, VT 05753
Round up your totals at the registers July 8th – July 14th. The Co-op will match your donation for Abenaki Helping Abenaki.
Rally Every Time You Shop! When not featuring a specific non-profit, donations are given to Addison County Food Shelves

Vermont has a checkered and complex history involving the indigenous people who lived here before European settlers arrived. It is a history of exploitation, including separation of families, eugenic sterilization, and genocide. Rather than run the risk of appropriating their culture by "telling" their story through another white voice, we have chosen to repeat the words of this tribe, verbatim, from their website:
Our Mission – The Nulhegan Band of the Coosuk Abenaki
The mission of the Nulhegan Band of the Coosuk Abenaki Nation is to strengthen our government; build our community, and ensure sustainability; protect our customs and traditions, and continue to promote our culture and celebrate our heritage while sharing it with those around us. The Nulhegan Abenaki tribe is nestled among the lakes, rivers, and forests of N'dakinna's northern range and headquartered in the Northeast Kingdom at Barton, VT. We are one of the largest Abenaki Tribes still in existence today. As nomadic and place-based people, we live and travel throughout our greater Western Abenaki territories as our ancestors did. These traditional homelands we call N'dakinna include Vermont, New Hampshire, and parts of Canada, Maine, and Massachusetts. Our connection to this land cannot be described in any language. It is our birthright and obligation to advocate for our citizens and lands throughout our ancestral territories. We continue to respect and steward N'dakinna so that its uniqueness and beauty will be protected for generations to come.
Abenaki Helping Abenaki – 501C3 Non-Profit
The Seventh Harvest Relief Project is an evolution of the Longhouse Food Pantry. With unemployment at record-breaking highs and an ever-increasing cost of living, it is entirely necessary to share with those less fortunate. Food, hygiene, warm wear, and heat during winter are a necessity to survival and comfort in the Northeast Kingdom. Permaculture, organic community gardens, and a remembrance of the old ways brings us closer to sustainable and green living.
The Abenaki Land Link Project is a partnership with Rooted in Vermont, a program of the Vermont Farm to Plate Network, and the Northeast Organic Farming Association of Vermont (NOFA-VT) This project provides indigenous seeds to over a dozen gardeners, homesteaders, and farmers around Vermont who have dedicated land to grow and harvest food for Abenaki citizens this season. All of the seeds have been graciously provided by the Nulhegan Band of the Coosuk – Abenaki Nation and cannot be used for any other purpose outside of the project.
The Abenaki Bison Project is providing the first-ever tribally-owned bison herd in New England. We have partnered with Wiley Side Farm in Shoreham. We have an agreement with them to manage and feed the herd. All Bison Meat that is culled from our animals is distributed to our citizens through 3 distribution points located throughout our territories.
For more information about the Nulhegan Band of the Coosuk Abenaki, and to find out how you can help support their food security initiatives, please visit: https://abenakitribe.org/