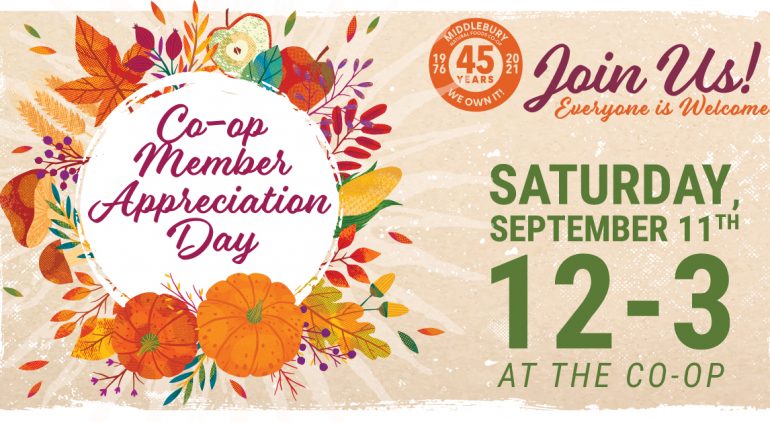 Sep. 11th
12:00pm – 3:00pm
Middlebury Food Co-op
9 Washington St., Middlebury, VT 05753
OK, so big food events are off the table this fall. But, we just can't miss the chance to appreciate our members for the loyalty, understanding, and appreciation you have extended to your Co-op over the past year. Plus, it's the Co-op's 45th Anniversary in 2021 – let's have some fun before the year ends! With a little creativity, we can pull off a safe AND fun Member Appreciation Day – come join us!
Anyone Can Get a FREE Co-op T-Shirt When They:
Become a Co-op Member-Owner
Renew their Membership (12 months will be added to any renewed membership, so nothing is lost by renewing early)
Donate a Member Share to our Food For All program
Membership is just $20 per share!
AND! Member-Owners can take home treats from local producers and enter our raffles to win Co-op Gift Cards.
See YOU there on Saturday, September 11, 12-3 at the Co-op (rain or shine!).