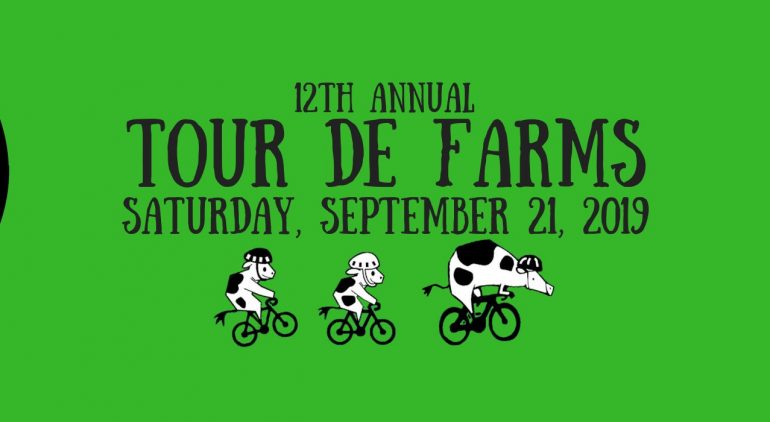 Acorn's 12th Annual Tour De Farms is Saturday, September 21st
Mark your calendar! Register early to get the best rate.
This year's biking farm tour will feature two distances—a 30-mile route and a more relaxed, family-friendly 10-mile distance. You'll pass through the beautiful pastoral landscape of the Champlain Valley and visit four to eight farms depending on your distance. Each farm stop will host additional food and beverage producers so there'll be plenty of sustenance along the way. Last year riders sampled everything from maple iced coffee and farm-fresh salads to maple-glazed ham and Vermont's famous cheeses! At the end of your journey, spend some time enjoying the food and music at Vergennes' Eat on the Green event.
Similar to 2018's route, you'll pedal over the rolling hills of Vergennes, Ferrisburgh, and Charlotte. Vergennes Union High School (VUHS) is the site of the start and finish, convenient to Route 7 and a short drive from Burlington, Vermont. With rider safety in mind, the route is traffic controlled at key intersections and supported by local bike mechanics who can fix a flat, or a more serious problem, in a jiffy. Riders depart VUHS starting at 8:30 a.m. and will be sent off in waves.
The Tour is limited to 500 riders. Register early to reserve your spot.
Check back to see what food and beverages will be offered during this year's Tour de Farms.
Website: http://www.acornvt.org/tourdefarms/
Register: http://www.bikereg.com/tourdefarms
Facebook event: https://www.facebook.com/events/328548844444572/
Contact: Sue Hoxie, Tour Manager
P: 802-989-6980
E: maplerunmarketing@gmail.com