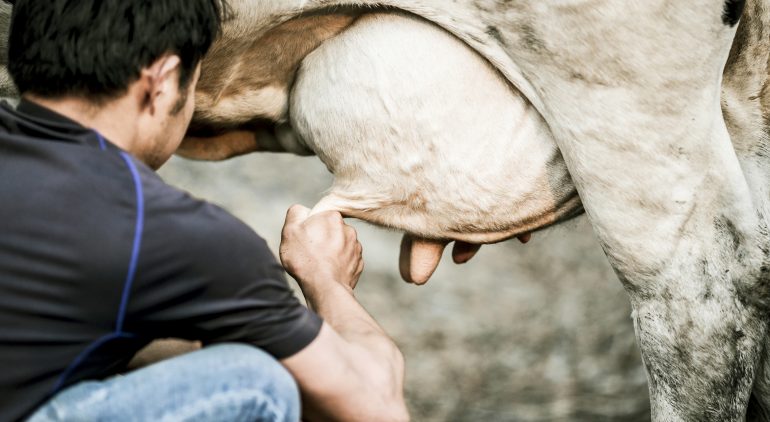 Milk With Dignity
June is Dairy Month, and we're excited to celebrate all aspects of Vermont's Dairy industry, including the migrant workers who are responsible for anywhere from one-half to two-thirds of the state's dairy production. Vermont is home to about 1,200 – 1,500 migrant workers, mostly concentrated on dairy farms in Addison and Franklin County. Dairy work is generally considered desirable among migrant worker communities because it offers consistent, year-round work and usually provides some form of housing. However, because dairy work is year-round, there is no legal pathway to citizenship for workers. It is estimated that about 90% of migrant workers are undocumented, though the exact number is unknown.
Unfortunately, Vermont's migrant dairy workers often face dangerous and unhealthy working and living conditions. In December of 2009, an accident resulting in the tragic death of migrant worker José Obeth Santiz Cruz, who was killed while working on a farm in Fairfield, Vermont when his clothes were caught in a 'gutter scraper' without proper safety protections, sparked the birth of an organization intended to support workers enduring human and workers rights abuses. Migrant Justice has documented farmworker stories, struggles, and denial of rights through interviews, surveying hundreds of farmworkers, organizing monthly community meetings, and running a hotline that was launched in June of 2011. In 2014, Migrant Justice farmworker leaders designed and completed a survey with 172 dairy farmworkers across the state of Vermont to collect up-to-date detailed information about the working and living conditions that dairy farmworkers face on a daily basis.
The survey revealed significant injustices faced by Vermont dairy farmworkers, which are in violation not only of existing labor and housing laws but more fundamentally of basic human rights principles. It's also important to note that migrant farmworkers are excluded from many fundamental rights under the law including the right to the Vermont minimum wage: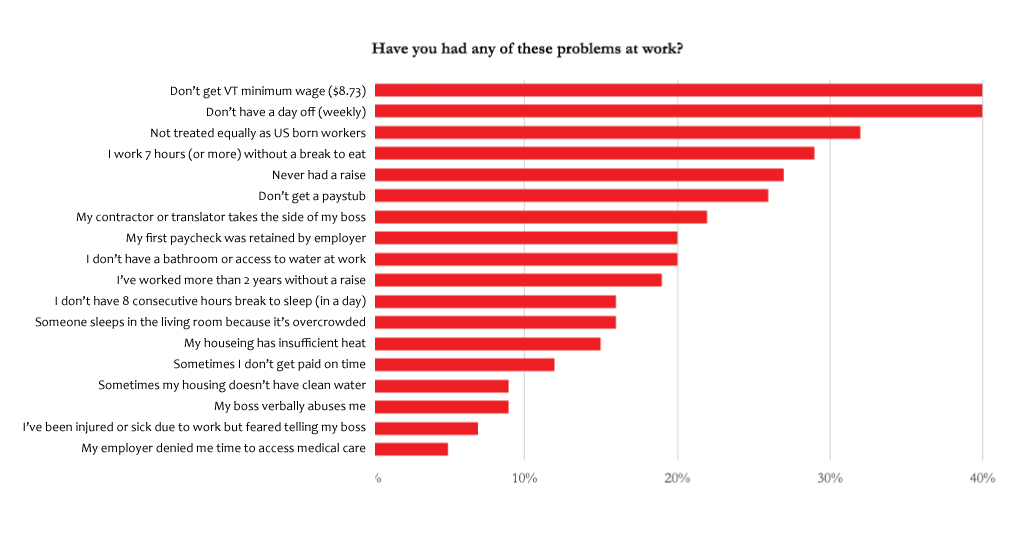 The results of their survey, combined with information gathered over several years of open communication with migrant workers through their various programs, led Migrant Justice to launch the Milk with Dignity Campaign. The Milk with Dignity Program brings together farmworkers, farmers, buyers, and consumers to secure dignified working conditions in dairy supply chains. The Program enlists the resources of food industry leaders to provide a premium for milk to participating farmers who agree to work towards compliance with the labor standards in the Milk with Dignity (MD) Code of Conduct. The premium helps offset farms' costs of compliance with the Code and rewards farms that comply.
Farmworkers converted worker's rights and housing violations into solutions in the creation of the MD Code of Conduct—defining the human rights essential to a dignified workplace and fair housing. The Code is created by the very workers whose rights it is intended to protect and is further improved upon through an intensive feedback loop from participating farmworkers and farmers in the MD Working Group. The Code sets standards for working conditions relating to wages, health and safety, housing, schedule and rest, non-retaliation, non-discrimination, and other
labor conditions. Their members also noted that some dairy farms already had most of the Code of Conduct's standards in place, demonstrating that it is both necessary and possible to raise the bar in the industry through this campaign.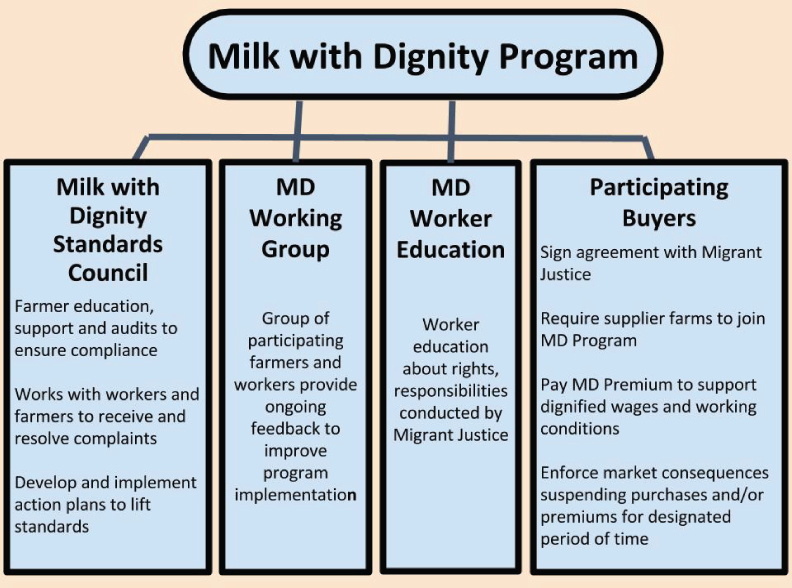 Migrant Justice is now inviting corporate buyers of milk to take the lead in the dairy industry by sourcing their dairy through the MD Program to ensure workers' rights in their supply chains. They were able to secure a commitment from Ben & Jerry's in June 2015 to be a pioneer in the Milk with Dignity Program and have been working ever since to hash out the details of how to operationalize the  Program. To learn more, contact info@milkwithdignity.org or call 802-881-7054.To get involved, contact info@migrantjustice.net or call 802-540-8370.
Milk with Dignity Short Doc from Molly Stuart on Vimeo.