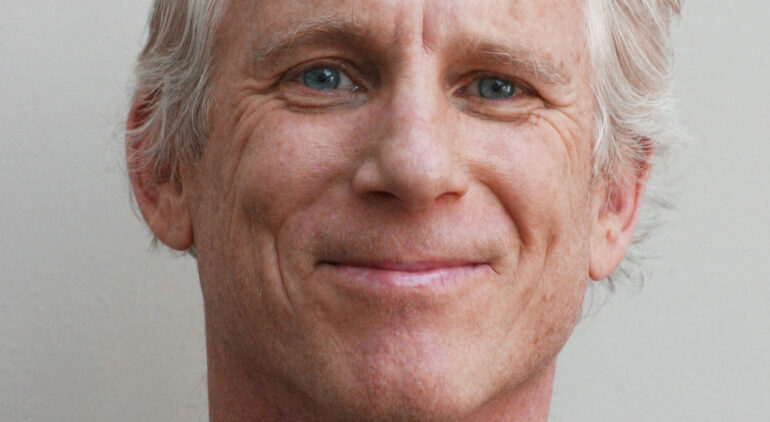 Touring A Monthly Co-op Board Meeting
As co-op owners, you elect directors to the Board, who work on your behalf. Most of that work is done at the monthly board meetings, bi-annual board retreats, committee meetings, and several ad hoc meetings each month. On the fourth Wednesday of each month at 6:30 pm, you will find the Co-op Board of Directors around a table munching on tamari roasted almonds and sliced apples doing what they do best – guiding the health and well-being of this vibrant member-owned Addison County institution. As the Co-op Board President, it's my job to compile an agenda for each monthly board meeting and post it, along with other reading or reference material, in the form of a board meeting packet. The content is collected from various sources; by the time the board packet is posted to our web-based collaboration tool, it's a 20-50 page document.  Packets are posted the week before board meetings to allow for plenty of study time. Frequently, they contain financial data in spreadsheet form that requires special attention.  Here's an example of a typical Board Meeting Agenda.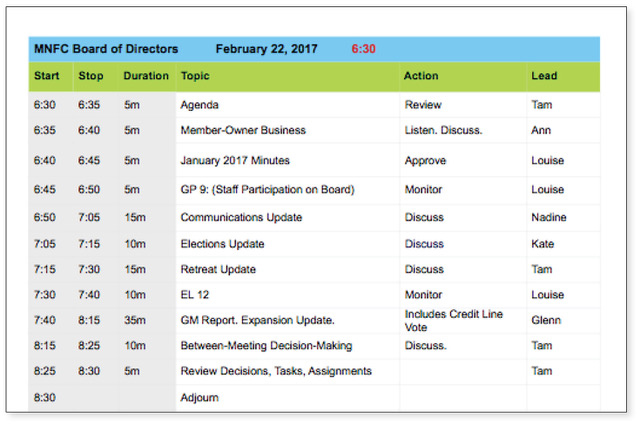 Meetings have a consistent flow from month to month and always start with a final agenda check. (Everything here that should be? Anything that shouldn't?) We always discuss any matters brought to our attention by you either in person or through a conversation with a board member as our second agenda item. Next, we review the previous month's meeting minutes and make any corrections or clarifications (although Victoria writes such good minutes, this doesn't take long). Then we vote to accept them for the permanent record.
After these first few tasks, we often turn to monthly policy monitoring chores. Our system of Policy Governance involves adhering to policies that direct the activities of both the board and general manager. This is done through a regular schedule of monitoring to ensure compliance. Learn more about Policy Governance here. (http://www.policygovernance.com/model.htm) If it's a Governance Policy (GP), we review it and decide whether, as a board, we are in compliance. (We usually are.) If it's an Executive Limitation (EL), we review the report that Glenn has provided to demonstrate his compliance and decide whether we agree. (We nearly always do.) At around this point, we discuss the monthly "GM Report" for a while. This report is not about policy compliance, but is informative and designed to give the board insight into the "under the hood" workings of our co-op, as well as views of "the big picture", such as what is happening regionally and nationally in the world of food co-ops and in the market conditions that affect us.
With any luck, we're halfway through the meeting now and turn to a list of timely or topical agenda items. These might include updates from committee chairs; retreat planning; expansion project details; board training and education; and communication and outreach. The impressive part of a monthly board meeting is the quality and dedication each member brings to his or her commitment to representing the Co-op. By 8:20, we review next steps, tasks, assignments and due dates before we adjourn and head home at 8:30.
Tam Stewart is our current Board President.  Do you have any questions about the Board and how we do our work? Write anytime with comments, questions or suggestions: tam@middleburycoop.com.